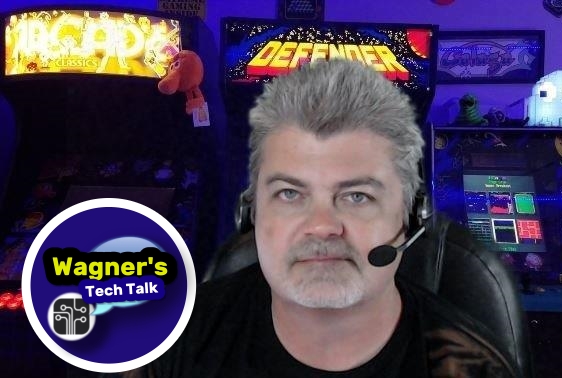 This is where you'll find info/hints on what is coming next on the channel or important milestones. SocialBlade stats can be found here. Consider yourself one of the WTT insiders!
blogs from previous years [ 2020 & 2019]
---
2021-05-07 – Recently received the Arcade Control Panel for the AtGames Legends Pinball. To learn more about it and see it in action, click here.
2021-05-01 – If you want an easy way to add a lot of Raspberry Pi operating systems to a microSD or SSD, PINN Lite might be what you're looking for. In this video, we'll install a bunch of OSes and briefly look at a few of them.
2021-04-29 – AtGames is offering a promotion if you want to pick up 1 (or more) Zaccaria Volumes at a great price – $15 off each volume, or save $65 on all 4 volumes. This promotion will run from April 29 – May 2 (Thursday, 6AM PT to Sunday, 9PM PT) on their E-Store.
2021-04-23 – The Argon IR Remote for the Argon One V2 / M.2 cases is a mixed bag. If you plan to use it with LibreElec/Kodi, it works well. However, if you only plan to use it with PiOS-based operating systems (PiOS or TwisterOS) it's quite limited. Check it out here..
2021-04-16 – Playing vertical MAME Games on the Legends Pinball is so much fun! Here's how to set it up.
2021-04-07 – I'm thrilled to be able to show you the new AtGames Legends Pinball machine. If you love pinball, this might just be for you! Check it out on the new AtGames Legends Pinball page.
2021-04-01 – Taking a brief spring-break vacation, but I've received the amazing item mentioned on 3/21. It's going to be so much fun to show you this new machine!
2021-03-26 – Today we'll take a look at the Super Console X Retro Gaming console. This unit comes with everything you need to hook it up to your TV/Monitor to begin playing games. Let's check it out here.
2021-03-21 – Yesterday I ordered something to review on the channel which is unlike anything I've ever reviewed before. It should arrive sometime late this week. I don't want to ruin the surprise just yet, it's going to take some time to assemble and get familiar with it. It is one of the most hard-to-find items right now, costs more than $500 but less than $1000 USD. I think it's something many are going to get excited about, stay tuned…
2021-03-18 – Today we'll take a look at the new RG351V, the vertical wood-grain variant which sports a 640×480 (4:3 aspect) display. Check out the review video here.
2021-03-13 – Here is an update video on some new things I've tried, viewers have taught me and may save you some time, money or make things easier.
2021-03-05 – I've recently purchased an ODROID-Go Super. This device has a nice 5″ display but what Retro Gaming system worked out best took some time to figure out. I tried 3 until I found one I was happy with. More information may be found at the ODROID-Go Super Guide here.
2021-02-23 – Updated the Argon ONE Guide page to include new information and video for the Argon ONE M.2 SSD Case (v2). The new video may be found here.
2021-02-18 – If you enjoy running multiple operating systems on your Raspberry Pi 4 or 400, you'll know how hard it is to keep up with all those little microSD cards. One solution to that problem is BerryBoot, let's check it out!
2021-02-09 – If you're looking for an easy to use and setup Retro Gaming operating system, you may want to check out Recalbox. In this video, we'll set it up on a Raspberry Pi 4, step you through many of the features and we'll even play a few quick games.
2021-01-31 – The NESPi 4 case is an awesome reminder of the classic NES console from years past. The case includes a unique feature that makes it possible to insert a cartridge (SSD) to install your games. But, what about eliminating the need for a microSD all together, can we boot RetroPie and with our games from a single SSD? Well, this page and associated video will help you do just that!
2021-1-25 – Today the Wagner's TechTalk channel reached a big milestone and it's all because of your support –10k subscribers! When this channel was started in March of 2018, the goal was simple: To create content on subjects you love. Today, you've shown the channel some love and I greatly appreciate your support and encouragement.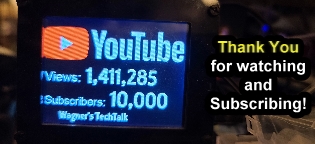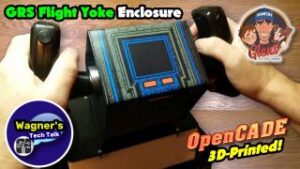 2021-1-22 – Move over Red-5, there's a new pilot joining the rebellion with his new GRS Flight Yoke and OpenCADE!
2021-1-17 – Added the start to the RG351(M/P) page here.
2021-1-13 – It's been some time since my last review of a new Anbernic RG device. Today I'm please to review the latest release in the RG family – the RG351M! I hope you enjoy this first look, you can find it here.
2021-1-9 – Let's Party like it's 1979, with the Asteroids Replicade by New Wave Toys! Check it out here.
2021-1-8 – The mail carriers have been gracious to me today. In one day, received two items that I just can't wait to share with you on the channel! Stay tuned…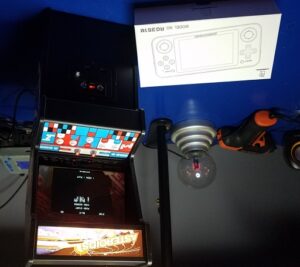 2021-1-8 – CanaKit has released their latest product, the CanaKit Raspberry Pi 4 Extreme Kit – Aluminum Edition (8GB). In this video, we'll unbox it, set it up and run some cooling tests. Check it out here.
2021-1-4 – I've updated the Glen's Retro Show OpenCADE page with more information, assembly instructions, etc. to support the new GRS Flight Yoke. You can jump directly to that location here.
2021-1-4 – I hope everyone's New Year is off to a great start! Lots of interesting tech coming to you soon. Over the next few weeks we'll be discussing some new how-to's, product reviews and even a new 3D Printed design (check it out here a little early)