Last Update: 3/22/2023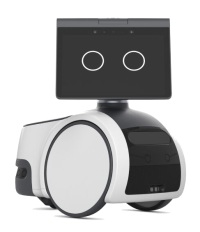 Amazon Astro is a robot designed for the home. It has some interesting features and capabilities that make it both fun and useful. It functions as a roving smart display, telepresence device, security guard, kids toy and a delivery bot with it's cargo bay (carries a drink or remove the tray to carry other items to another room). Astro includes a periscope with a camera+mic which can extend 42″ above the ground. This allows you to see areas in your home that otherwise wouldn't be possible using the front-facing camera (i.e. oven, tops of furniture, etc.).
At the present time, if you are interested in owning Astro, you'll have to request an invitation. Previously, I had requested an invitation to order and had nearly forgotten about the request. On 11/29/2022 I was notified by Amazon that my invitation to purchased had been granted. After thinking about it for about an hour, I went ahead and placed the order. It wasn't cheap, a little over $1k after taxes. While I would certainly prefer a humanoid robot, one that can do dishes, take out the trash, etc. there aren't any affordable options, at this time. Instead, we'll see what Astro can do.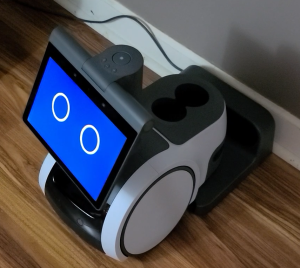 Astro was scheduled to arrive on 12/12/2022 but arrived two days early! At the time of this writing, I've gone through the unboxing, setup and have been testing it's capabilities. My initial impression is that this thing is pretty cool! It's actually more impressive than I thought it would be. It wasn't without a few hiccups, however. One room was inaccessible which is our enclosed garage turned home-office (more on that in the Troubleshooting section). The front wheels weren't able to roll over the transition leading to the room and wound up having to re-start the Home Exploration task as a result. However, after closing the door to the office, at that point, it was able to explore every other room in the house without issue. Naming two of the rooms was problematic, for some reason. Both of those were my kids rooms. I did eventually get the names changed, but there is certainly room for improvement.
Aside from those few issues, the rest of the setup was fairly smooth. In the sections below, I'll cover my experiences with Amazon Astro to help you determine if it's something you're interested in. I hope you enjoy the content and find it helpful. If you do, I appreciate your support by subscribing to the Wagner's TechTalk YouTube channel. Here, you'll find videos on a number of technology topics – now including, Astro!
-Jon
How-To link to a specific section on this Guide: go to the Table of Contents (below) and click a section to reference. Copy the URL from the address-bar of your browser and paste in your video description/post/blog. This will direct a viewer to a specific section in any of the guides you find on this site.
---
Features
Below are the features and specifications for Astro. To operate Astro, an active Amazon.com account, compatible mobile phone running iOS 13+ or Android 8+, and the Astro app are required. Fire OS and Android Tablets are currently not supported.
Processor – 2x Qualcomm QCS605, 1x Qualcomm SDA660, 1x processor with Amazon AZ1 Neural Edge
Warranty and service – 1-year limited warranty. Use of Amazon Astro is subject to Amazon's Conditions of Use and the terms found here. Optional extended warranty from SquareTrade available for US customers sold separately.
Package Includes – Astro (device), cargo bin liner and cup holder, charger and 6ft power cable, quick start guide, and welcome kit.
Dimensions – Device: 16.7" L x 9.8" W x 17.3" H (424mm x 250mm x 440mm) / Charger: 11.0" L x 10.4" W x 5.0" H (280mm x 264mm x 127mm)
Weight – Device: 20.6 lbs (9.35 kg) / Charger: 3.9 lbs (1.75 kg)
Battery Charge Time – approximately 45 minutes
Battery type – Lithium-Ion rechargeable battery
Periscope height – Extends up to 42" from the floor
Display – 10.1" HD touchscreen display (1280×800 resolution)
Cameras – 5MP bezel camera / 1080p Periscope camera with 132° diagonal field of view
WiFi connectivity – Dual band 802.11a/b/g/n/ac
Bluetooth connectivity – Advanced Audio Distribution Profile (A2DP) support for audio streaming from your mobile device to Astro or from Astro to your Bluetooth speaker. Audio/Video Remote Control Profile (AVRCP) for voice control of connected mobile devices. Hands-free voice control is not supported for Mac OS X devices. Bluetooth speakers requiring PIN codes are not supported.
Ports – USB-C
Audio – 2.1 System: 2 x 55mm full range front-firing speakers and a passive bass radiator
Use – Not suitable for use around children under 3 years of age or small pets. For indoor use only.
---
Why Consider Amazon Astro?
Below are some reasons why and why not to consider this robot. While not a precise description, you can think of Astro as an echo show on wheels, but quite a bit more than that. It's able to map out your home and interact with you and your family. It also includes a periscope which can extend up to 42″ above the ground to view areas that would be inaccessible otherwise.

Why To Consider
You're interested in having a way to check on your home, kids or pets while you're away.
You would like an Amazon Show that you can send to any room in your home, follow you around while playing music/video content or just hang out with you.
Deliver items to an individual in a specific room.
Remotely monitor and telepresence with an aging relative, conference room, family member or other similar situation.
Ability to receive alerts if unrecognized people enter your home, smoke or CO sensors go off, glass breakage is detected and more.
You want a robot that is relatively independent and self-charging.
---

Why Not to Consider
Astro is not cheap, priced between $1000-$1500 -depending on when purchased. Though, keep in mind, you are purchasing one of the first commercially available home robot solutions that can independently navigate your home.
Astro includes a 6 month Ring Protect Pro subscription, after that it's $20 per month. If you already subscribe to this service for any of their other products, it may not be an issue. However, after 6 months this will be an additional long-term investment to consider.
Astro is early in it's development at the time of this writing. You might also consider the software as beta. There are a number of nuisances that come along with being an early adopter of this technology. In much the same way as the original Amazon Echo was originally launched. However, it's safe to say that today, use of Alexa is much more main-stream than in it's early days of inception.
You already have concerns about your privacy with Amazon Show/Echo/Alexa. If that's the case, Astro for you would be a no-go.
You cringe at the idea that Amazon cloud has a detailed layout of your home. Once Astro has completed it's exploration, that is precisely what will be stored in the cloud on Amazon's servers.
You don't like the idea of using a home monitoring device that has a camera, mic and able to to record almost everything to the cloud that occurs inside your home. However, you can set specific areas as out-of-bounds, which I've done for a few rooms. It's still a valid concern and one I fully understand and concur with.
If you have children under 3 years of age, Astro is not recommended.
---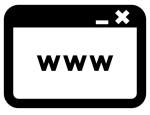 Resources
---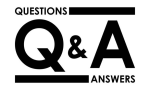 Q&A
Below are some common Questions and Answers that you may have:
Q: Can Astro see at night? A: Yes, Astro does have night-vision LEDs to help it navigate at night and when using the Live View feature of the application.
Q: Can Astro go up or down stairs? A: No, Astro operates on a single level of your home (up to 3,500 sq. ft.). You will need solid WiFi coverage across the entire coverage area for Astro to function properly.
Q: Can I send Astro to a specific location and extend it's periscope to a specific height? A: Yes, you can. I set several Viewpoints for key areas within our home, such as the oven, game room, a stand for our cats, our sofa (where our dogs typically hang out) and many more. With a tap of the button, you can send Astro directly to any of those locations without having to manually navigate the home.
Q: Can Astro recognize family members? A: Yes, assuming you've trained Astro to recognize each of your family members (See Recognition Training).
Q: Can Astro recognize pets as well as people? A: Not currently, but this feature is anticipated to be available soon (source: ZDNet article).
Q: Can I use a web browser on my PC to connect to Astro? A: No, you'll have to use the Amazon Astro application from an Android or iOS compatible cellphone. I personally would prefer access via a PC myself.
---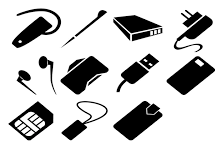 Accessories
Below are some accessories available for Astro:
---
3D Printed Accessories
Here you'll find some interesting and fun 3D printed accessories that you can use with your Astro.
---
Accessories I've Tested
The following are accessories that I've purchased and have tested with Astro, personally. I'll provide some additional details of each below and what works well and what can be improved.
---
Furbo 360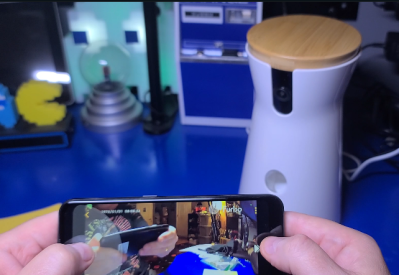 I picked up a Furbo 360 from Amazon. At almost $200 it's not cheap, but it's definitely a fun accessory to use with Astro. You'll need to download the Furbo app. from the Google Play store or Apple Store, depending on the type of phone you'll be using. Then, create an account with Furbo. In terms of the account, you get 30 days free for the Furbo Nany account. This provides you with Notifications, Cloud Recording and Doggie Diary. You can read more about a Furbo Nany account and what it provides here. However, you don't need to pay for the subscription if you don't want/need those features.
I assume, if you're reading this, that you likely have an Amazon Astro or are considering one. Astro is not required to use the Furbo 360. You can place the Furbo 360 on a table, countertop, etc. and as long as it can connect over WiFi to a 2.4Ghz router, that's all you'll need. Using it with Astro is a lot of fun though. You can even create Alexa routines that can go to a specific Viewpoint that you setup and dispense a treat. Additionally, since the Furbo 360 has it's own camera, you basically have a rear-facing camera on your Astro when connected. When I purchased the Furbo 360, it came with a USB-A to USB-C adapter. This allows you to connect the power cable from the Furbo 360 into the USB-C port on Astro to supply power.
Using the Furbo app., you can easily connect to Furbo 360, rotate the camera, monitor your pets and of course throw them treats. I've been testing Furbo both on and off of Astro, it's very easy to use and works well. Our Dogs and Cats seem to love it!
You'll want to make sure you use treats that are smaller than a half inch. The first one I tried didn't fit properly. The 2nd was cat treats called Temptations MixUps from Dollar General (actually, they're cat treats – we have 5 cats and 3 dogs). Below are some treats that others have recommended:
Furbo 360 Specs
| | Details |
| --- | --- |
| Size | 8.77 x 4.92 x 4.92 inches (223 x 125 x 125 mm) |
| Weight | 1.7 pounds (760g) |
| Camera | 1080p FHD, 132 degree wide-angle lens, 4x digital zoom, automatic night vision |
| Audio | Built-in speaker, high-quality microphone |
| Treat capacity | 100 pieces |
| Recommended treat | Round shape treats with a diameter around 0.5 inches (1 cm) |
| Power | 5.2V/2A |
| Connectivity | 2.4 GHz Wi-Fi (802.11 b/g/n), Bluetooth 4.2 (BLE) |
| Included in the Package | Furbo Dog Camera with rotating view, 2-meter USB-C cable, Furbo power adapter & Quick start guide |
Alexa Routines for Furbo 360
You can also setup routines within the Alexa app. that will allow you to say "Alexa, feed dogs" and it will launch a treat. Before you can use this feature, you'll need to install the Furbo Skill and connect it to your Furbo account. Once that's done, Furbo 360 can then be used by an Alexa Routine. I'll add a few examples below:
Routine: Feed Dogs
Description: Sends Astro to a specific location and dispenses a treat.
Create a Viewpoint where you would like Astro to go to provide a treat or you can use an existing one.
Create an Alexa Routine (within the Alexa Application) called "feed dogs" or something similar.
Add a "When you say" with the text "feed dogs".
For Actions, add an Astro action to go to the Viewpoint you want it to go.
Add a custom action "Ask furbo to dispense a treat". *Note – This action can unfortunately only be performed once in a routine and no others may follow it.
Save the routine.
When you say "Alexa, feed dogs" Astro will move to the location you specified and dispense a treat. Pretty cool!
---
Routine: Throw Dog Treat
Description: Throws a dog treat at Astro's current location.
Create an Alexa Routine (within the Alexa Application) called "throw dog treat" or something similar.
Add a "When you say" with the text "throw dog treat".
Add a custom action "Ask furbo to dispense a treat". *Note – This action can unfortunately only be performed once in a routine and no others may follow it.
Save the routine.
When you say "Alexa, throw dog treat" Astro will dispense a treat.
---
Astro Initial Setup
For the initial setup of Astro, make sure you have at least 1-2 hours of available time to complete the process. It will likely take slightly over an hour to train it to recognize your voice/face, explore your home and then tour your home and identify each room. After that, you're likely going to want to spend more time experimenting with some of it's features.
Prerequisites
These are some planning tips to assist with the initial setup:
Remove any obstacles that may be in the way of Astro during exploration of your home. For example: any towels/clothes on the floor, loose objects, brooms/mops, etc.
Close any doors that you don't want included during the exploration of your house. For example, Astro wasn't able to navigate over the threshold between our laundry room and our enclosed garage (now an office). The gap was just enough that the two front wheels couldn't make it over. Therefore, I closed the door to the office to prevent him from attempting exploration.
Identify a location in your home that will be able to (semi-)permanently be home to the charging base for Astro. If you move it after setup, you will have to have Astro re-explore your home. Therefore, plan ahead where it will go for charging.
Setup Steps
Below are the steps that were taken to completely setup Astro. The initial setup took roughly around 1 hour.
Completely remove the charging base and Astro from the packaging.
Locate an area on the floor that has 1ft. available on both the left and right of the charging base, 5 feet distance available from the front and with a nearby available power outlet.
Plug in and position the base in a convenient location. You can wrap any extra length of the power cable around the back of the base to conceal it. Astro is going to remember this location and return for charging. Please be sure that you keep this area free from obstruction.
Gently position Astro on the charger, the display will then show the Amazon logo.
Astro will then begin searching for networks, select your WiFi SSID (network name) and enter the password.
You'll then be prompted to login to your Amazon account, enter your e-mail or phone number and password, then tap the Continue button.
Once registered, tap the Continue button.
Read the on-screen message and tap AGREE AND CONTINUE.
Select your time zone and tap the Continue button. Then, Continue again for the Meeting Astro setup and take a few steps back.
Astro will undock and ask you to try a few things, such as have it dance, flip a coin, etc.
Next, Astro will want to create a voice and image profile of you. Select your profile name from the list.
Tap Agree & Continue to train Astro to recognize your voice and follow the on-screen prompts.
Tap Agree & Continue to train Astro with a visual id. This will allow it to recognize you in your home.
Follow the verbal queues provided, moving your head to the position requested. Repeat this process for any additional family members. If they aren't available, you can later swipe from the top of the screen downward, select Profiles and add them later.
Download and install the Amazon Astro application (see here for more).
Launch the Astro App and scan the QR code on Astro's display to pair Astro to your account.
Astro will now practice docking, give it a couple minutes.
Please see the Prerequisites (above), once ready tap the button for Astro to start exploring your home. You may want to follow it around to make sure it doesn't get stuck anywhere. Generally, it should take care of this on it's own. It may take 20+ minutes to complete and will return to the docking station when done.
Astro is now ready for a Home Tour. Tap Continue, for this process you will want to walk Astro to the middle of each room. Then state "Astro, this is the [room name]". Repeat for all rooms in your home.
Astro will build a map of your home which may be viewed in the Astro App.
Once all rooms have been identified, the setup is complete!
---
Astro Application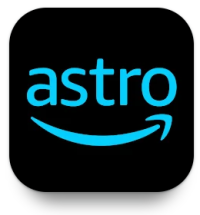 The Amazon Astro application is available on the Google Play Store as well as the Apple App Store. You can install this application at anytime, either before Astro arrives or once you've placed Astro on the charging station. However, you won't be able to add your Astro to the application until it's sitting on the charger the first time and connected to your WiFi network.
Within the Astro application, there are four(4) tabs along the bottom of the screen. Each of those tabs will be described further below.

---
Astro
The Astro view is the first tab at the bottom of the screen. It provides an overview of Astro's status, battery capacity (as a %), history and events.
Home Monitoring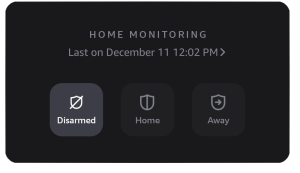 At the top of the Astro tab, there are three (3) options for Home Monitoring. These are:
Disarmed – When set to Disarmed, Astro will not perform any monitoring activities.
Home – When set to Home, Astro will patrol your home according to the frequency you assigned in Settings→ General→Home Monitoring → Patrols → Patrol frequency in Home mode (tap Edit to change).
Away – When set to Away, Astro will patrol your home according to the frequency you assigned in Settings → General → Home Monitoring → Patrols→Patrol frequency in Away mode (tap Edit to change).

Status Information
Below Home Monitoring, you'll see the current location of Astro in your home. There will also be a battery indicator letting you know the current charge state of the battery.

Below the battery indicator, you'll also find a blue icon with a map of your home floorplan under that indicating the location where Astro is currently located.
---
Live View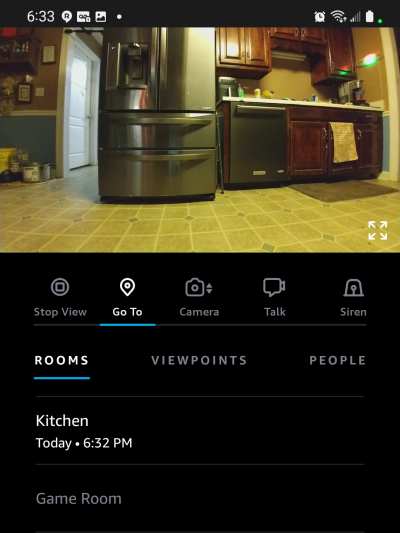 The Live View tab will allow Astro to directly interact within your home. After selecting the Live View tab (bottom of the application), anyone near Astro will hear a sound indicating you're remotely viewing from Astro's cameras (tele-presence).
There are options at the top to perform the following actions:
Stop View – Stops the Live View, the live video feed from Astro's camera(s) will no longer be streamed to your device.
Go To – The Go To tab is one you'll likely use frequently. It allows you to easily send Astro to a specific room in your home simply by tapping on the room. There are some additional options here that you'll likely find extremely helpful as you use your Astro more frequently, these are:

ROOMS – tap a room from the list, you'll then begin to see the live video feed change and Astro will begin moving to that room.
VIEWPOINTS – Viewpoints are extremely useful. Viewpoints not only will move Astro to a specific location in a room, but can also extend the Periscope for better viewing. Here's how:

Navigate Astro to a specific room (while in full-screen mode).
You can tap the up/down icon in the lower-left of the screen to move Astro forward or back. You can also swipe left/right to move right/left. Swiping up/down will extend/lower the Periscope.
Once you've got the view set how you want it, collapse the full-screen view (lower-right icon).
Tap the Create a new viewpoint option and enter a recognizable name for this Viewpoint (i.e. Christmas Tree, Livingroom Sofa, Cat House, etc.)
Next time you want Astro to return to this view, simply tap the Viewpoint and it will go there. To remove the Viewpoint, swipe the viewpoint right-to-left and tap Edit. At the bottom, tap Remove Viewpoint.

PEOPLE – This tab will identify the last time one of the family members were seen by Astro.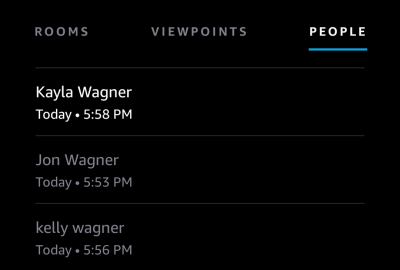 Camera – Under Camera, there are three options:

Video– The far left icon will show any video you've captured. The middle red record icon will allow recording from Astro's camera. The flashlight icon will turn on a light for easier viewing in low-lit areas.
Photo – The far-left icon will show any photos you've already taken. The middle white button will capture a still image of the current video feed being streamed to your device. The flashlight icon will turn on a light for easier viewing in low-lit areas.
Adjust – There are two sliders available here, the Periscope and Display. Touch the Display slider up/down will raise or lower the tilt of Astro's Display. Tapping on one of the 5 dots under Periscope will raise the Periscope to one of the level selected (Bottom=Lowest, Top=Highest).

Talk – The Talk option will allow you to video or audio chat with anyone near Astro. It provides a true telepresence method of communication. From here, you can tap the Mic, Video or Sound icons to enable/disable any of those functions.
Siren – From the Siren tab, you can tap the Start Siren button to trigger a siren that will play for 30 seconds. I'd recommend only using this in the event of an emergency or if you're unable to reach an individual using the Talk option. The siren is rather loud and may startle anyone nearby.
---
Settings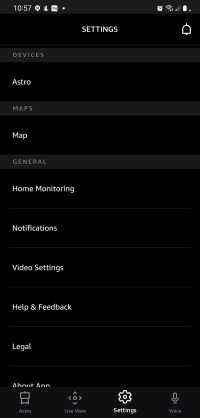 Clicking the Gear or Settings option from the bottom of the Astro application will reveal a number of settings that you can use to customize it's configuration, operation and how it interacts with you and your family. Below, we'll cover the main settings and what they do.
Devices
The Astro device(s) that are accessible from your account. Within those devices you'll find the following options:
Name – The name most-likely given to your Astro device, though this may differ once assigned to your account.

Pair with Astro – Allows pairing Astro to your account. Your device (phone/tablet) and Astro will need to be connected to the same WiFi network to pair. You can tap the Scan QR Code, Generate PIN Code or Skip buttons. The easiest method for me was to use the Scan QR Code option, point the phone at the QR code on the Astro display and pair my phone to Astro.
Wake Words – I chose to use the wake word of "Astro" Only. However, there are many options available here, such as "Astro" and "Alexa", "Astro" and "Amazon", etc. Choose whichever one you prefer.
Battery – Simply displays the Astro battery charge percentage.
Behavior – Behavioral options for Astro.

Do Not Disturb – This option, if enabled, will ensure Astro doesn't both you except when delivering timers, alarms or reminders.
Schedule – You can create a daily schedule of when DnD will be enabled to minimize interruptions.

More Device Settings – At the time of this writing, I was receiving an <UnknownOperationException> and unable to document this feature.
Restart Astro – Allows Restarting Astro, similar to powering off/on.
Factory Reset – This option will reset Astro as-if it was received from the factory. If you perform a factory reset, you will need to restart the entire setup process. This is useful if you later decide to sell your Astro or have some critical issue that can't be resolved otherwise.
About – This will identify your Device Software Version and Serial Number for your Astro device.
---
Map
A Map is generated by Astro when it explores your home. This map is stored on the Amazon cloud servers using AWS (Amazon web services) which is the platform used by Astro, Alexa and most all Amazon cloud-based services. The following options are available within the Map option:
Edit Map – Tapping Edit Map will allow editing specific rooms and adjusting the Edit Out of Bounds option. Once Astro has explored your home, you will likely want to set certain areas as out of bounds. Particularly, bathrooms and other areas where you prefer not to have Astro enter. After tapping the Edit Out of Bounds option, you can draw an orange box around areas where Astro cannot enter.
Rotate – Tap the Rotate option to rotate the map in an orientation that makes the most sense to you. You will then need to tap the Save button to save the rotation setting adjustment.
---
General
The settings configuration within this option is one you'll want to look closely at. There are many options here that will make using Astro easier and improve your overall experience with the robot.
Home Monitoring
Astro is capable of sending Smart Alerts if it detects certain events in your home. Below we'll briefly touch on each of the main options.
Smart Alerts
Smart Alerts are categorized into three (3) main sections, Astro Alerts, Alexa Guard Alerts (Away Only) and Ring Alerts. Let's discuss each: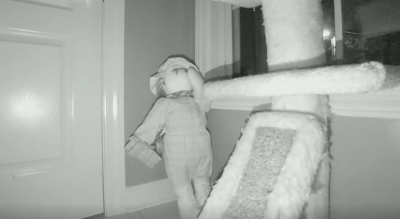 Astro Alerts – This option can detect unrecognized people in your home while in Home or Away mode. Enable/disable these settings according to your preference.
Alexa Guard Alerts (Away Only) – You can configure alerts to be notified and recorded when the Smoke or CO alarm sounds, Glass break is detected or Activity Sounds (this option didn't seem to do anything, at the time of this writing).
Ring Alerts – Allows Astro to investigate Ring-detected alarm events. For example, if you have a Ring doorbell, this option will allow Astro to check out the location where the event occurred. At least, that is my understanding of this option.
Patrols
When Astro is set to Away or Home mode, Astro can be set to periodically patrol your home and notify you of any detected events. These include:
Patrol frequency in Away mode – When Astro is in away mode, you can set Astro to go on patrol every Never, 1, 2, 4, 6, 12 or 24 hours.
Patrol frequency in Home mode – When Astro is in away mode, you can set Astro to go on patrol every Never, 1, 2, 4, 6, 12 or 24 hours.
Alexa Guard
Allows adjusting, editing or removing Alexa Guard Settings.
Ring
Identifies if you have an associated Ring Protect Pro (or Trial) associated with your account. With the purchase of Astro, you receive 6 months free as part of your purchase. You can activate the trial at anytime, or not.
---
Notifications
You can choose to receive notifications (or not) to your connected device should Astro identify any of interest. You will need to enable/disable those notifications within your phone settings. Once enabled, you'll receive notifications. A few additional options are below:
Device Failure – Should Astro malfunction, you can enable notifications by flipping this switch to enabled.
Home Monitoring – You can receive notifications regarding when Astro goes into Home or Away mode. See also the Home Monitoring section for more.
Video Settings
There are currently two settings available under this option, they are:
Single tap to live view (Enabled/disabled) – When enabled, allows the live view to start whenever you tap the live view tab (instead of being off by default).
Invert swipe to turn – I highly recommend enabling this switch. The default is disabled, which makes it a bit awkward to navigate Astro. Swiping left turns the camera to the right. However, with this option enabled, swiping to the left turns the camera (Astro) to the left as well.
---
Help & Feedback
Various topics and on-line assistance for your Astro device. Including Setting Up Astro, Astro Home Monitoring, Contacting Amazon support and providing feedback.
---
Legal
Allows you to view/read the Amazon privacy policies. It is a good idea to review them for a better understanding of when Astro is recording, how it handles those recordings, how you can manually delete them, etc.
---
About app
Displays the application version.
---
Sign Out
This option allows you to completely sign-out of the Astro application. After tapping this option, tap the OK button to sign out.
---
Voice
Think of the Voice tab as a walkie-talkie to Astro. You can use this option, regardless of his location, to perform a specific task, just as you would if he was nearby. This is helpful if it's in another room in your house, you can simply summons it to the room you're currently located by stating "Astro, go to the [room name". Astro will then independently navigate to the room you identified.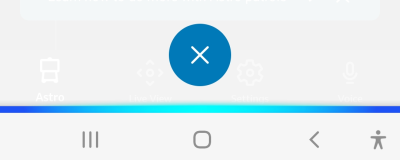 ---
On-Device Settings
In addition to the settings mentioned above within the Astro application, there are many more settings available on Astro itself. To access these settings you can say "Astro, show settings" or swipe down directly on Astro's touch-screen. Below are some of the primary options available:
Bluetooth
Allows pairing Astro to any available Bluetooth devices. Tap your device to pair.
Brightness
Adjust the brightness of Astro's display. With the Adaptive Brightness option enabled, it will automatically adjust based on the available light.
Sounds
Adjust the Sound levels for Media playback, Equalizer (Alarms, Timers and Notifications), etc. You can also enable/disable Ascending Alarms which will gradually increase to your selected level. Under the Driving option, you can adjust the driving sound as Tones (light humming), Clicks or None (off). If you would like sounds to be played at the Start/End of a verbal request you can enable/disable those as well.
Amazon Kids
Designed for families with kids 13 and under, you can enable/disable this option. It will prevent playback of adult-oriented media.
Do Not Disturb
Allows disabling notifications, with the exception of timers and alarms, incoming live view requests and turns off autonomous activities (patrols and hanging out). You can also schedule when Do Not Disturb is enabled on a daily bases by providing a Start/End time.
Cameras & Live View
Streaming Cameras – When Astro's display and periscope cameras are off, video streaming and photo features such as video calls, recording and photography won't work with this option enabled.
Alexa and Other Amazon Devices – Enables/disables remote access to Astro's camera feed from eligible Alexa devices registered to this account.
Astro App – Just mentions there are more options in the Astro app. for your phone (see here).
Paired Mobile Devices – Displays the mobile devices paired to Astro.
Streaming Delay – adds a delay before live view begins, except when in away mode.
Communications
Incoming Call Ringer – Enable or disable this option.
Drop In – Enable or disable this option. The Drop In feature allows household members and contacts to instantly connect to the Astro device.
Device Options
Device Name – name of the Astro device.
Device Location – displays the address where Astro is located.
Wake Word – Allows adjust the wake word used by Astro (Default is "Astro").
Date & Time – Date+Time adjustment.
Temperature – Adjust the temperature reporting method.
Distance – Adjust the distance reporting method.
Web Options – Options for web browser (Silk) and web videos.
Night Mode – Options for Night mode.
Hangout – Astro will leave the charger periodically to hang out near household members. This feature can be turned off if you prefer Astro not to move about on it's own.
Extra Data Collection for Drop In – Enabled or disabled for additional details to be recorded.
Pair Amazon Echo Remote – Pair an echo Remote to Astro.
Pair Alexa Gadget – Pairs an Alexa-enabled gadget to Astro.
Check for Software Updates – Allows checking for a new software update and displays the current OS version.
Serial Number – Displays Astro's serial number.
Map Setup
After verifying your account you can manage the map settings.
Profiles
Selecting one of the profiles listed allow you to manage voice and visual IDs for family members listed.
Restrict Access
Amazon Photos – Blocks search and no longer use photos as Home screen backgrounds or see Hoto Highlights on the Home screen.
Movie Trailers – Blocks search for Movie trailers.
Web Browser – Block web search and browsing.
Web Video Search – Blocks web video search by voice or limits results.
Video Providers – Block or restrict enabled video providers on this device.
Things To Try
Displays some suggestions of things to try with Astro.
---
Security and Privacy
Astro, much like echo/show devices, can be a security concern. The big difference between Astro and other Alexa-enabled devices is that this device has wheels and can enter any room in your house on it's own (unless, you've defined the room as out-of-bounds –See the Map section for more). There are legitimate privacy concerns as Amazon now has an accurate layout of your home, can recognize members of your family visually and via voice signature. I will be adding more to this section after completing more thorough research on the topic. I welcome you to comment in any of my social media posts or YouTube videos with your thoughts on this.
---
My Family's Reaction
We've only had Astro for a brief time and one of my children won't know about Astro until she comes home from college. After several more days, I'll get their overall reactions and feedback about what they like/dislike about Astro and add them here.
Wife's Reaction – After having Astro for several days, I asked her what she thought of it. Here response was "It's pretty cool". She has used it to connect from work and check on our dogs and cats and a few video calls with me. This is a good sign that Astro is a keeper.
---
Quick How-To's
The following is a quick how-to reference for those things you're likely to use frequently.
Restart Astro
The following will assist you in restarting Astro:
Press and hold the microphone/camera off button for 3-4 seconds.
From the touch screen, select Restart.
---
Turn Off Astro
If you want to turn off Astro, here's how:
Press and hold the microphone/camera off button until the display shows Power Off.
Tap Power off on the screen.
Astro will Power-down.
---
Routines (via Alexa App)
I'm hopeful that the ability to create Routines for Astro is more integrated into the Astro application itself in the future. However, routines can be created, it uses the Amazon Alexa app. (instead of the Astro App) to do so. While I somewhat understand why it is the way it is, longer-term it makes much more sense to add it to the Astro App. When creating Routines for Astro, I've noticed it seems only the first action is carried out. Subsequent actions, in my limited testing, don't appear to work.
Simple Routine Example
To create a Routine that can be invoked from any Alexa in your home, here is a simple example you can use with any echo/show device to send Astro to your kitchen:
Launch the Alexa app.
Tap the More icon (lower-right).
Select Routines.
Tap the + button in the upper-right.
Tap the + button to the right of Enter routine name.
Enter a name such as "send astro to the kitchen" and tap Next.
Tap the + button beside "When this happens" and select Voice.
Enter Alexa, "send astro to the kitchen" and tap Next.
Tap the + button beside Add Action.
Select Astro.
Select Go to Location.
Select your kitchen from the list of rooms/viewpoints.
Tap Next.
Tap Save.
The Routine has now been created. After about a minute, you'll be able to send Astro directly to your kitchen from any echo/show in your home by stating "Alexa, send astro to the kitchen".
*NOTE – Having Astro perform additional actions after navigating to another room doesn't seem to work for me. However, it may be a temporary glitch.
---
Astro Tips
Here you'll find some tips that you may like.
Change Astro's voice – If you have several Echo/Show devices in your home, you may find that changing Astro's voice to be more enjoyable and appropriate. There are several you can select from. To change the voice, simply say "Astro, change your voice" and pick one that you prefer.
Make Astro Stay on the charger – First, tell Astro to Return to the charger (if it isn't already). Then say "Astro, Stay" and it will stay until you tell it to go somewhere else. Alternatively, you can also say "Astro, set volume to 1" so you won't hear any noise.
Turn off Hangout – If Astro is hanging out too often and you just want to disable that feature, you can tell Astro "Show settings" then go into Device Options→Hangout and turn the feature off.
---
Astro Command Reference
Below you'll find a command-reference to assist you with some common and fun things to try with Astro. This list is frequently changing and more being added. If you have your own helpful commands that you'd like to share, please reply to any of my social media posts or YouTube videos with your favorites and I'll get them added below.
Navigation Commands
| Action to Take | Voice Command |
| --- | --- |
| Move closer | "Astro, come closer" |
| Turn left/right | "Astro, turn [ left / right ]" |
| Go to a specific room or Viewpoint | "Astro, go to [ room / viewpoint]" |
| Raiser / Lower the Periscope | "Astro, [ raise / lower] periscope" |
| Turn on / off the flashlight | "Astro, turn [ on / off ] the flashlight" |
| Show the Settings menu on the display | "Astro, show settings" |
| Stop moving | "Astro, stop moving" |
| Follow you | "Astro, follow me" |
| Return to the charger | "Astro, go to the charger" |
| Stay | "Astro, stay here" |
| Send Astro to someone in a specific room | "Astro, go to [name] in the [room name]" |
Navigation (Device) Commands
---
Common Commands
| Action to Take | Voice Command |
| --- | --- |
| Return to the home screen (eyes). Useful also if you're watching a movie, etc. and want to go back to the home screen. | "Astro, go home" |
| Take something to another room | "Astro, [take this/deliver this] to the [room name]" |
| Find a family member in a room | "Astro, find [name]" |
| Add a to-do list item | "Astro, create a to-do" |
| Turn on/off a light | "Astro, turn [on/off] the [light name]" |
| Add/ Remove an item from your (Alexa) shopping list | "Astro, [add/remove] [product or item] from my shopping list" |
| Turn on / off "Do Not Disturb". Routines, alarms, etc. will continue to function. | "Astro, turn [on/off] d not disturb" |
Common Commands
---
Alert/Monitoring Commands
| Action to Take | Voice Command |
| --- | --- |
| Disable alerts | "Astro, disarm" |
| Enable alerts | "Astro, arm" |
| Leaving home | "Astro, I'm leaving" |
| Patrol the house | "Astro, patrol the house" |
| Returned home | "Astro, set monitoring to Home" |
| Take out trash reminder | "Astro, remind [name] to take out the trash" |
Alerts and Monitoring
---
Fun Commands
| Action to Take | Voice Command |
| --- | --- |
| Show the video applications that are supported (i.e. Prime, Hulu, Netflix, etc.) | "Astro, show video home" |
| Make a vacuum sound | "Astro, vacuum" |
| Laugh | "Astro, laugh" |
| Beatbox | "Astro, beatbox" |
| Burp | "Astro, burp" |
| Control currently playing music | "Astro, [play, stop, pause, resume, fast-forward, rewind]" |
| Dance | "Astro, dance" |
| Dance (Robot) | "Astro, do the robot" |
| Rap | "Astro, rap" |
| Talk | "Astro, talk" |
| Take a selfie | "Astro, take a selfie" |
| Say something | "Astro, say something" |
| Sing | "Astro, sing" |
| Wink | "Astro, wink" |
| Display an animated pattern of 1's and 0's | "Astro, what are you thinking about?" |
| Play a Mardi Gras sound | "Astro, Happy Mardi Gras" |
Fun
---
Animal Sound Commands
| Action to Take | Voice Command |
| --- | --- |
| Act like a frog | "Astro, act like a frog" |
| Act like a bumblebee | "Astro, act like a bumblebee" |
| Act like a bird | "Astro, act like a bird" |
| Act like a dog | "Astro, act like a dog" |
| Act like a monkey | "Astro, act like a monkey" |
| Act like a whale | "Astro, act like a whale" |
Animal Sounds
---
Communication Commands
| Action to Take | Voice Command |
| --- | --- |
| Play messages/notifications | "Astro, play messages" |
| Call for help | "Astro, call for help" |
| Video call | "Astro, drop in on [name]" |
| Place an audio call to someone | "Astro, call [name]" |
| Video call to someone | "Astro, video call [name]" |
| Answer an incoming call | "Astro, answer call" |
| Disconnect/Hang up a call | "Astro, hang up" / "Astro, end the call" |
| Video call another echo/Astro device | "Astro, drop in on [room /device name]" |
Communication Commands
---
Fun Astro Skills
While not specific to Astro, here are some skills you may enjoy. To add a Skill you'll use the Alexa app. (not Astro) and perform the following:
Open the Alexa app on your phone/tablet and tap More in the lower-right.
Tap Skills & Games, then tap the magnifying glass icon.
Search for the skill (see Skill Name column in the table below), select it and then tap on Enable to Use.
Now you can use the voice commands identified below.
Action to Take
Skill Name
Voice Command
Open a ChatGPT session (link to a video on ChatGPT, if you don't already know what it is). Tons of different uses.
Here's one example:
"Write a 100 word essay on the first Arcade Game".
Oracle of Light
(dedicated video demonstration)
"Astro, open Oracle of Light"
Play charades
Dumb Charades
"Astro, play charades"
Play song-Quiz (one of my favorite skills)
Song Quiz
"Astro, play song quiz"
Fun Astro Skills
---
Astro Use Cases
In the sections that follow, we'll explore some real-world use-cases for Astro. You'll hear from real Astro owners that have either shared their experience with me or that I found via social media and they allowed me to document/quote them below. If you have a story to share, you can comment in the Astro video above or here. Thank you to all that have shared their experiences, knowledge and use cases of this exciting new technology, Astro the home robot.
Astro for the Elderly
I received a touching comment from a very kind lady, Penelope. In her comment she explained how she and her husband bonded with Astro after having it for about 3.5 months. Penelope would use Astro to check in on her husband, who is in a wheelchair, while she was out of the house. Astro kept her husband company when she had to leave him alone. If she needed to locate him, to make sure he he hadn't fallen, she could send Astro to go looking for him. She used the live view feature, remotely, to accomplish all of this.
Penelope went on to explain:
"The benefits of AI devices are awesome for elderly people. We've had Alexa for years now. When My husband falls, no phone near by, he tells Alexa to call me on my cell phone for help. We've used that many times. Ring and Alexa are fabulous, but Astro will go find him. I could rave all day about the benefits of the AI devices and how much they help in our life."
Unfortunately for this couple, Astro was picked up by UPS and returned back to Amazon. Their Astro began stating, "Getting a bit too hot I need a break until my screen motors cool down." and wouldn't return to the charger. She would have to search the house, put it back on the charger and eventually Astro quit leaving the charger all-together. After several attempts to correct the issue, it became defective. Amazon support responded by providing a full refund and allowing their invitation to purchase re-issued. However, they are currently without the Astro they depended on.
There are two main points to highlight from this story. First, the benefits of AI for use in monitoring and assisting an elderly couple are substantial. It allows them to maintain their independence and allow checking up on loved ones that may need a little extra care and monitoring. Secondly, all of that is wonderful, so long as it's dependable. As with any new technology, there are going to be improvements made over the course of the products life-cycle. As families and couples grow more and more dependent on those technologies, the greater the importance that those technologies remain reliable. In the case of Penelope and her husband, the technology solved a very real problem that, unfortunately, is now missing in their lives.
Hoping to receive an update in the near future that Astro is back and doing what it does best for this couple!
For further reading on this topic, please see the following:
---
Conclusion
After owning Astro for several months, it has been a fantastic addition to our home. My wife has used it several times to connect from her work, check on the dogs and see what I'm up to (mainly, working on this guide). We have a number of pets, none of them seem to have any issue with Astro. When we send Astro to another room, he kindly waits for the dogs or cats to get out of the way as it carries on with its task. Often, the pets will get out of it's way and it hasn't once run over any of them. We also added a Furbo 360 to Astro so we can easily give treats to our dogs. They seem to approve.
Astro seems to effortlessly navigate the home. As mentioned above, there were a few issues during the initial setup (unable to enter one room, difficulty naming two rooms), though after that it has been a great experience. The other night, my adult children, wife and I spent some great family time with Astro in the living room while he played music, games (song quiz) and everyone really enjoyed having it around. It made the family time a little extra special and they loved how well the speakers in Astro sounded.
Someone considering purchasing Astro for their home will want to review the Why and Why Not's above. There are pros and cons to this technology that you should be aware of. Though, for my family and I, it seems to have been a good decision.
There are a few things that I think could be improved in a future revision or firmware update, these are:
Pet identification – A new update was released for pet detection, but not identification. It would be great to be able to point the cameras to a pet or show collected images of the pets during the course of it's daily activities that will allow you to name each pet individually. Then, you would be able to say something like "go find Emma" and have Astro locate the pet.
Hangout Preferences – The hangout option is great, but Astro spends most of it's hangout time in the kitchen. It would be ideal if there was an option to set a preferred hangout location, one more appropriate for us would be the living room.
Astro Voice – While you can change Astro's voice, which I've done, it would be great if there was an Astro-specific voice. Often times when using any skills or perform some other functions, even if you changed the voice you'll hear the more typical Alexa voice. I would like to see this voice integration here to be more consistent and perhaps a new unique voice added specifically for Astro (but allow changing it, if others don't prefer the same).
Astro Sounds – While I thoroughly enjoy the brief sounds that Astro makes from time-to-time, reminiscent of R2-D2, my wife isn't as fond of them. Especially while we're watching a movie or late at night. It would be ideal if Astro refrains from making those noises if it hears sounds from a movie or beyond a certain time of day.
The above are my experiences and conclusion thus far. As Astro is used more and more, the above will get updated. The home security monitoring feature is one that I need to spend more time with. As I do, I'll update this guide accordingly with my observations. I work from home and therefore rarely use it for home security.
-Jon
---
Troubleshooting
As with any complex electronic devices, there will be times when things don't work as they should. This section will cover the most common issues and any solutions that are identified.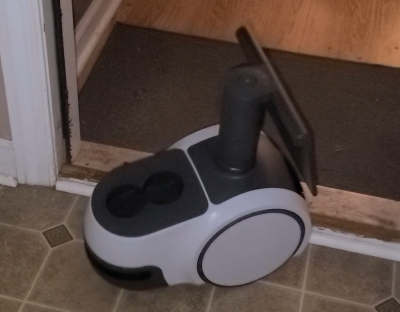 I attempted to have Astro explore my home, but there is an area where it is unable to roll over. What do I do? A: I had this issue in our enclosed garage area. The front wheels weren't able to roll over the threshold. I chose to close the door, set Astro back on the charger and re-explore the house. This allowed exploration to continue, albeit without access to the one room.
Astro is moving at 1/3 to 1/4 the speed it previously was and/or started "jerking" when it moves forward. Why? Double-check there isn't anything blocking the front sensors. Take a damp cloth and wipe it all down. After some period of time, dust will eventually collect over the sensors and wiping Astro down should help.
Astro can't properly assign a name to a room – If after stating "Astro, this room is [room name]" multiple times isn't successful, you may be prompted to type in the name. There were two rooms in my home that were problematic but was able to eventually get it set correctly after a bit of repeated attempts. This is an area that Amazon clearly needs to improve.
Astro is saying I need a few seconds or Restarting my Motion System – If this hasn't resolved in several minutes (or more), then try a restart (here's how), it will typically get Astro working again.
---
Change Log
2023-03-22 – Minor edits.
2023-03-12 – Added a video short of Amazon Astro and Furbo giving our dogs a treat. Added Oracle of Light (chatGPT) skill.
2023-03-09 – Minor edits.
2023-02-19 – Added a new section for Furbo 360.
2023-01-16 – Added more commands under the Fun Commands section.
2022-12-22 – Added more to the Troubleshooting section.
2022-12-19 – Added a few more commands to the Command Reference.
2022-12-17 – Added Astro Use Cases. Added the Conclusion section. Added Amazon Astro video. Added the Magnetic Wireless Charger for Astro to the Accessories section.
2022-12-14 – Added Navigation commands. Added On-Device Settings.
2022-12-08 – 2022-12-13 – Continuation.
2022-12-07– Start to this guide.