Below are comprehensive written guides for a multitude of topics covered on the Wagner's TechTalk YouTube channel. The aim of these guides is to complement the video content and offer an easily searchable alternative to video-only resources. The subjects covered are diverse and encompass detailed how-to instructions for a range of topics, including but not limited to: The Steam Deck (covering Emulation, Windows installation, and more), Raspberry Pi and Pi4/400 Gaming, Retro Gaming on various platforms (such as Batocera, RetroPie, Recalbox, etc.), Virtual Pinball on the AtGames Legends Pinball, Arcade machines (Legends Ultimate, Mini, Light-gun gaming, etc.), Robotics using Amazon Astro, Artificial Intelligence, and more. The kind of Tech You ❤!
These guides follow an article-based format and offer in-depth information that is unavailable elsewhere. They are freely accessible to all viewers and subscribers, and do include accompanying video resources to further elaborate and demonstrate the subject matter. It is my sincere hope that these guides prove helpful to you.
-Jon
---
Events Attended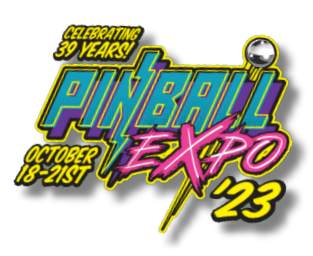 Pinball Expo '23 – I had an awesome time attending the Pinball Expo '23 in Chicago. Met with several fans of the channel, AtGames, Zen Studios, Magic Pixel as well as several fellow content creators. During the show, the main thing that I wanted to check out was the new Legends 4KP Standard Cabinet (The Addams Family themed cabinet). The artwork was very well-done, the topper looked nice, etc. During the show we had a giveaway for one Legends 4KP, huge thank you to everyone who participated and to AtGames for sponsoring it! Click here if you want to check out details of the trip.
AtGames Legends 4K Series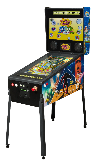 AtGames Legends Pinball 4K – This new guide covers a number of aspects of the Legends 4K, including: Resources, Accessories, Unboxing & Assembly, Navigation and the Settings. This guide will continue to evolve and receive new content.
AtGames Legends Pinball 4KP EVT – AtGames is preparing the new Legends Pinball 4KP for public release! On this page, we'll take an in-depth and excusive look at the capabilities of their EVT/pre-production model. It's far more than just a 4K monitor upgrade. It also includes a larger backbox, larger backglass display, dedicated DMD, new operating system, solenoids and much more! A multi-part video series has been developed to assist in demonstrating what this upcoming model can do and answer many questions that you may have.
ASUS ROG Ally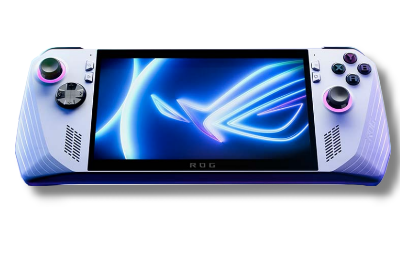 ASUS ROG Ally Guide – The Asus ROG Ally is a powerful PC in a handheld formfactor. The Ally ships with Windows 11 and ideal for playing your favorite PC games, Emulation and even Virtual Pinball. In this guide, we'll explore what this device can do.
RetroBat Windows PC Emulation Guide (great with the ROG Ally) – RetroBat is an application that you download and install to your Windows PC, ROG Ally or Steam Deck (running Windows) to automatically configure/play games within the Emulation Station front end. RetroBat is completely free to download and supports some of the most popular emulators.
Steam Deck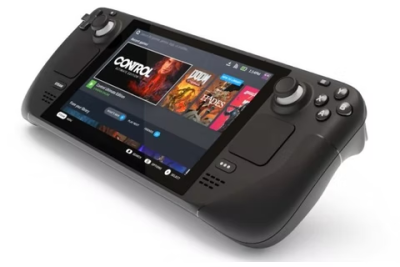 Steam Deck Guide – The Steam Deck is an amazing device for not only the awesome Steam games but also for emulation. Here you'll find a large collection of information on the Valve Steam Deck, including how to get the most out of your device.
Steam Deck Batocera Guide – Batocera is a popular retro gaming operating system that is available for a number of different devices and platforms. This guide will focus on using Batocera with the Valve Steam Deck and how you can get the most out of it.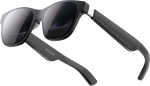 ---
PC Retro Gaming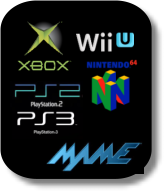 RetroBat Windows Retro Gaming – RetroBat allows you to emulate all your favorite gaming systems directly within Windows (totally free, no need to reboot). In this guide, we'll install and setup RetroBat on a PC, ROG Ally and Steam Deck.
PC Retro Gaming using Batocera from a USB Stick – In this guide, we'll install Batocera to a USB Stick / Flash Drive which will allow using any x86 64-bit PC as a retro gaming station.
PC Retro Gaming [Batocera] – Got an old laptop that you're about to place in the trash? Why not turn it into a Retro Gaming machine. This guide will give you some ideas on how to re-purpose that old laptop.
---
E-bikes

E-Bikes – on this guide, we'll discuss e-bikes, starting with the Hiboy EX6! As I try additional accessories or learn more, I'll update this page accordingly.
Robotics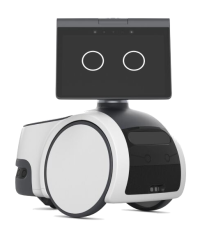 Amazon Astro Guide – Interested in owning your own home robot or curious what it can (and can't) do? This guide will provide some insight into this exciting new product.
Maqueen Plus – Interested in robotics but not sure where to start? Here is an awesome platform to quickly and easily learn how to make the Maqueen Plus robot do some pretty cool things! On this page, I'll show you what you need and provide additional resources to help you get up and running.
---
Common Tasks
Common Tasks Guide – This guide will assist you in backing up, restoring and/or expanding a microSD, M.2, SSD or other storage media. There is much more here, so do check it out if you need assistance with your storage media.
---
AtGames
In the sections below, you'll find guides for several AtGames products. More are coming, so please check back regularly. For an overview of the AtGames Legends products, please see this video.
Flashback Gold


AtGames ATARI Flashback Gold 50th Anniversary – If you love the Atari VCS/2600, the Flashback Gold 50th Anniversary edition is a great little console. On this guide, you'll find information on how to update the firmware which fixes a few issues with the paddles, details on how to add your own games to the system and much more!
---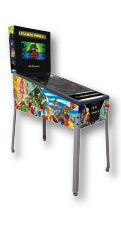 Legends Pinball
I've always wanted a pinball machine, but due to cost and available space, it was out of reach –until now. The AtGames Legends Pinball machine is slightly larger than 3/4 the size of a real pinball machine and has the ability to play an unlimited number of tables. Below are some guides to help you get more familiar with Legends Pinball:
Steam Deck with Legends Pinball Guide – In this guide+video, we'll use the Steam Deck to power an AtGames Legends Pinball machine over OTG! We'll check out Pinball FX3, Future Pinball and VPX tables too.
---
Legends Pinball Micro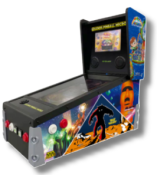 AtGames has created a smaller version of their popular Legends Pinball machine called the Legends Pinball Micro! The following guides are dedicated to this impressive machine.
Legends Pinball Micro Guide – If you're looking for the same experience as the Legends Pinball but in a smaller form-factor, then the Legends Pinball Micro may be for you. This machine maintains all of the same capabilities and features of it's larger sibling in a smaller size and lower price. This guide goes into more detail about the machine and media elements to help you determine if it's something of interest.
---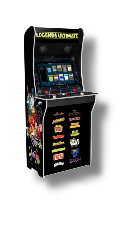 Legends Ultimate
After owning the AtGames Legends Pinball, AtGames was kind enough to send over an AtGames Legends. Below are guides related to this machine.
AtGames Legends Ultimate Guide – The Legends Ultimate guide covers the main machine as well as 1st party/3rd party accessories. For guides dedicated to popular accessories, see the next section, Legends Ultimate Accessories.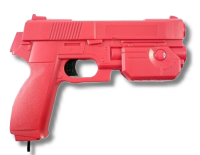 Legends Ultimate Accessories

Legends QuadPlay – The Legends QuadPlay is a drop-in replacement for your stock Legends Control Panel that allows simultaneous 4-player arcade gaming.
Legends BitLCD Guide – The Legends BitLCD is an impressive accessory that adds an LCD marquee to your Legends Ultimate. The guide goes into much more detail and will assist with installation, setup and more.
---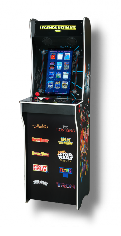 Legends Ultimate Mini
The Legends Ultimate Mini is a hybrid between the larger Legends Pinball and Legends Ultimate products in a smaller form-factor. Yet, it provides an innovative feature allowing easy rotation of the display in horizontal or vertical orientations. Explore the guide below.
---
Legends Gamer
The Legends Gamer series are very versatile ways to get started with Retro Gaming. Each device supports the ability to play 100 (Mini) or 150 (Pro) built-in Arcade and Console games, stream games from ArcadeNet, play Virtual Pinball or add CoinOps X to play thousands of classic Arcade Games. See the guides for each for more details.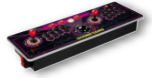 AtGames Legends Gamer Pro – The gaming console includes 150 built-in Arcade and Console games and supports 2-player gaming. It's a bit larger than the Legends Gamer Mini and also includes a trackball.

AtGames Legends Gamer Mini Guide – This was not a guide I had planned on creating, however after spending time with the machine I was thoroughly impressed. Check it out, I think you will be as well.
---
Legends Core MAX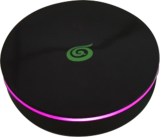 The Legends Core Max includes the same processor found on the higher-end Legends Pinball. As a result, this means you'll be able to play Zaccaria and TAITO Pinball tables at 1080p/60fps.
AtGames Legends Core Max – In this guide, we'll take a look at the Legends Core Max. At first glance, it looks identical to the Legends Core. However, the processor on this device is more powerful than that found on the Legends Core. For more details on this device, click here.
---
Legends Core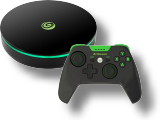 The Legends Core or Legends Core Plus is a great entry-level option for playing many classic Arcade and Pinball volumes on your existing TV or monitor.
AtGames Legends Core (Plus) – In this guide, I'll step you through the setup of the Legends Core and many of it's important features. Including resources and links that will be helpful for new users.
---
AtGames Shared Guides
These guides are shared among all of the above products.
---
Artificial Intelligence
Artificial Intelligence (AI) – AI has been an exciting topic for me personally for many years. Recent innovations in both AI and robotics have spurred my interest once again with technologies such as ChatGPT and the Amazon Astro home robot. This guide will explore these technologies in more detail.
---
GRS Products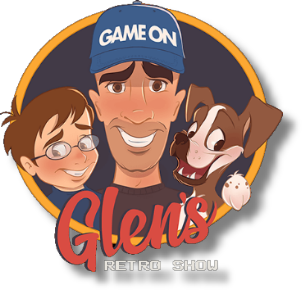 Glen is known for creating some of the best arcade gaming products available and at a great price. The following guides provide additional information and resources.

GRS Super Joystick Ikari Rotary Kit [Video] – In this video we'll check out the GRS Super Joystick, it's a unique controller for a very unique set of games. However, it's flexible enough to be used with most any classic arcade or console games.
GRS Panel POD – The GRS Panel POD allows you to easily swap between a Trackball, Spinner, Dual-Stick and other GRS mini Arcade control panels! The Panel POD utilizes a USB connection which will work with the Build-A-Cade as well as many other devices such as the Steam Deck and the ROG Ally.
Build-A-Cade – The Build-A-Cade is an exciting product that allows you to turn your Raspberry Pi into a full mini Arcade! The guide provides more information, video tour of the product (including assembly), game-play examples and much more.
---

Raspberry Pi 4/400
The following guides will help you to get the most out of your Raspberry Pi. Much of the information here focuses on information for Raspberry Pi 4 Model B owners. Though, some information may be helpful for other Raspberry Pi models also.
Raspberry Pi 4/400
Raspberry Pi 4 Videos – A number of videos on the Raspberry Pi 4. Everything from installing Windows 11 on a Pi4, TwisterOS, multi-OS boot options (PINN Lite & Berry Boot) and much more can be found on this page.
Raspberry Pi 4 Retro Gaming
Raspberry Pi 4 Gaming – Information and how-to details on how to setup a Raspberry Pi 4 Retro Gaming system. Including both hardware and software and supporting videos.
RetroPie Tips
RetroPie Tips and Resources – Tips that I've found very helpful for RetroPie may be found here. Includes detailed instructions and video content.
Open Media Vault
Open Media Vault 5 (OMV5) Beta – In this tutorial, we'll setup OpenMediaVault 5 (beta), setup some shares and use RSync to duplicate files from one share to another.
---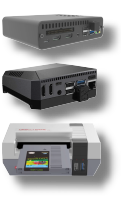 Raspberry Pi 4 Cases
The following include guides for the Raspberry Pi cases. Some are complete cases, laptop/computer-like form factors, etc.
---
Retro Game Handhelds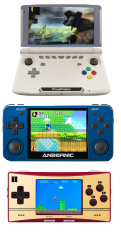 The following are pages setup to assist you with links / information on various popular portable Retro Gaming handhelds:
---
New Wave Toys Replicades
New Wave Toys Replicade – If you are interested in 1:6th scale near-arcade accurate reproductions of classic arcade machines, you'll enjoy this page. It includes video demonstrations of all the X Replicade machines I've been able to acquire.
---
OpenCADE
If you are interested in building your own 3D Printed Arcade control panel, this is a project you may enjoy. All models are free to download and allow you to custom configure the control panel the way you want it. There are many panels available which support a vast number of Glen's Retro Show products.
---
Arcade1Up
I own one Arcade1Up product at this time, the Star Wars cabinet. If you'd like to check out that review, the link is below. At the least, watch the first 3 minutes, you may enjoy the intro.
Star Wars Arcade1UP – here we'll take a detailed look into the Star Wars Arcade1UP including some helpful assembly tips, and much more.
---
iiRcade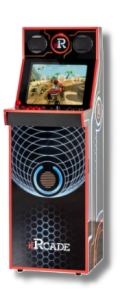 Detailed information regarding the iiRcade Home Arcade cabinet, setup and more. *NOTE: iiRcade is no longer in business and why this has been moved to the bottom of the page.
iiRcade Guide – Detailed guide on the iiRcade cabinet, operation and setup.
---
Change Log