Last Update: 1/23/2021
Welcome to the RG351M page. I received my RG351M on 1/8/2021 and I'm really enjoying learning more about this little Retro Gaming handheld. The content on this page will certainly grow over time, much like the RG-350 tips page did here. However, my goal with this new page is to make it much easier to navigate and find the information you're interested in.
If you find some interesting tips and recommendations of your own that you'd like to share for use on this page, please comment in the video below and let me know.
Best Regards,
Jon
RG351M – First Look!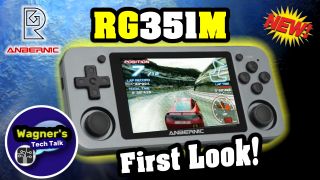 In this video, we will take a look at the new RG-351M with built-in WiFi and an aluminum shell. This is the latest addition to the Anbernic RG (Retro Game) family. While it shares most of the specifications with the RG351p there are a few differences between the two: an Aluminum shell and built-in WiFi (some early RG351P's did have built-in WiFi). Let's talk about it…
---
It's always best to get a 2nd opinion when buying a new device, let's see what MashTec has to say about the RG351M (video to the right)!
Today we're gonna take a look at Anbernic's new premium retro gaming handheld, the RG351M. Again, Anbernic released a metal version of it's latest retro gaming handheld. In this video, we're gonna take a closer look at it and check out it's changes compared to the previous RG351P version. What's really new about it? What can you expect from it, what could Anbernic have done better with their new model and will it really be worth an upgrade? This is what we want to find out today. Let's get started…
---
Specifications
The following are the specifications for the RG351M:
CPU: RK3326 1.5GHz (it may be 1.3GHz, not 1.5Ghz – See discussions here)
GPU: Mali-G31 MP2
OS: EmuElec v3.8 (not OpenDingux)
1GB DDR3L RAM
3.5″ IPS display (320×480)
Aluminum alloy shell
Built-in WiFi
3500mAh Battery (~8 hrs.)
Colors: Black / Gray
microSD 64GB Storage (up to 256GB)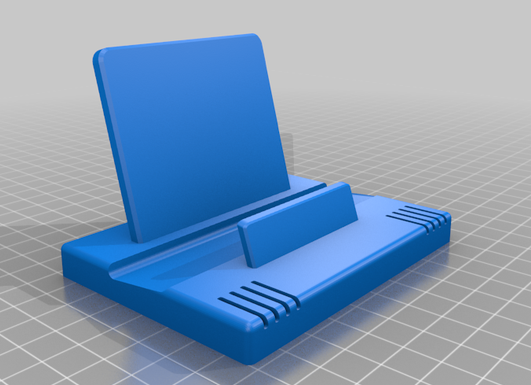 FREE Handheld Retro Gaming Stand (3D Print) – fits the RG351M/P (and others) check it out here. This is the same stand used in many of my Retro Gaming Handheld videos and a nice way to display your cool new device. It was designed by me and is free for you. Enjoy!

---
Helpful Resources
Related Facebook Groups
---
ArkOS

In my experience with the RG351M thus far, I prefer to run ArkOS over EmuElec. There are a number of reasons for this which I've documented on the following page.
---
Helpful Tips
| | |
| --- | --- |
| Tip | Details |
| Safe Shutdown | Holding down the power button to shutdown the RG351 will result in a dirty shutdown which could result in file corruption. Instead, from the Main Menu press the Select button and press A on SHUTDOWN SYSTEM, then YES. This will cleanly shutdown and power off your device. |
| Charging RG351M | For charging the RG351M, you should use a power adapter which supplies 5volts/2Amps ( Example here ). |
| Larger microSD card | The included microSD will suffice for getting started, but you may prefer a more reputable brand, such as: Samsung, SanDisk or Gigastone. Or if you want to try out alternate operating systems such as ArkOS. |
---
Button Layout and Settings
The following will identify the button layout on the RG351M as well as demonstrate the general button functions and System / Emulator operations. The button layout below corresponds to the EmuElec button layout (OS included with the RG351M) and may differ with alternate operating systems. The buttons shown in the diagram below correspond to the bold items shown in the tables.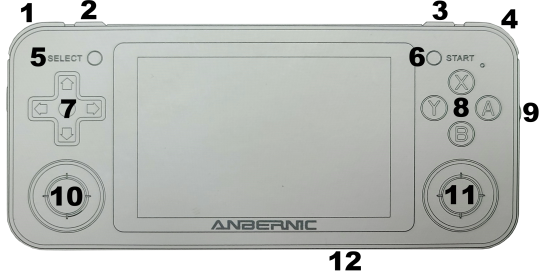 General Button Operations
Button
Function
Button
Function
1
L1
7
D-Pad (Up/Down/Left/Right)
2
L2
8
Action Buttons A/B/X/Y
3
R2
9
Volume Control
4
R1
10
Left Analog Stick or Press Down
for L3
5
Select
11
Right Analog Stick or Press Down
for L4
6
Start
12
Reset
Main System Interface
Once entering the main interface, see the table below for key operations.
Button
Button Location
(above)
Function
A
8
Enter or confirm
B
8
Return / Cancel or bring up a Quick menu
Start
6
Main Menu Settings – Game, UI, Network, etc. Start again to return.
Select
5
Restart or Shutdown settings.. B (8) to return. *NOTE – use this to properly shutdown the system.
L2 / R2
2 /3
Skip left/right through emulator list
D-Pad Left / Right
7
Cycle through Emulators
Emulator Selected
Once an emulator is selected from the main menu, the following will apply.
| | | |
| --- | --- | --- |
| System | Function | Notes |
| Emulator Selected | Select (11) | Enters the options menu. Press once to enter the Options, a 2nd time to exit. Options allow changing the sort, list style and more. |
| Game List | L2 (2) / R2 (3) | Press L2 or R2 to page up/down through the game list. |
Game Operation
Once an emulator has been selected and a game launched, the following table will apply.
| | | |
| --- | --- | --- |
| Emulator | Action | Notes |
| Save State | R3 (11) + R1 (4) | Saves the state in the current game (RetroArch emulators only). |
| Load State | R3 (11) +L1 (1) | Loads the previously saved game state (RetroArch emulators only). |
| Show FPS (Frames per seconds) | R3 (11)+ R2 (3) | Shows / hides Frames per seconds (FPS). |
| Wheel | Volume up/down (9) | Adjust the volume level up/down |
| Arcade (FBA, MAME, Capcom, etc.) | Select (5) | Insert coin |
| Arcade (FBA, MAME, Capcom, etc.) | Start (6) | Start the game |
| Exit MAME | R3 (11) | If in-game, move down and select Exit. Otherwise, the game will exit after pressing the action button. |
| Exit RetroArch Emulators | Press L3 (10) / R3 (11) at the same time | After pressing the action buttons, select Close Content and press A. Then press up and select Quit RetroArch. |
| DS (Drastic) | Enter Configuration menu | Press the L3 (10) button. Use the D-Pad buttons (7) to navigate the options. |
| DS (Drastic) | Exit Emulator | Start (6) + A (8) |
---
Change Log
2021-1-23 – Added MashTec's review of the RG351m, with his approval.
2021-1-20 – Added ArkOS and Daphne Installation instructions.
2021-1-16 – Made the initial page public