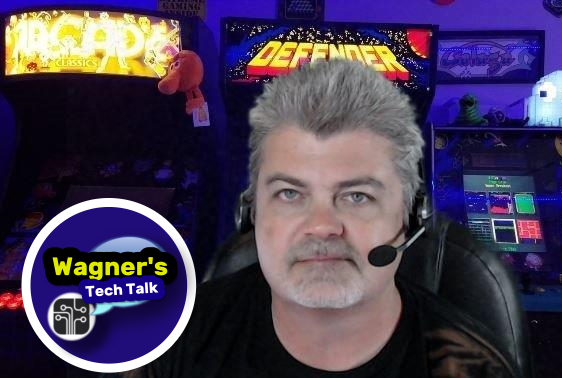 This is where you'll find the latest information about what is coming to the channel. There are hints on upcoming videos, guides, status updates or important milestones. SocialBlade stats can be found here.
This website and YouTube channel is a hobby, I try to deliver deliver new content each week. However, this may not always happen and I appreciate your support and patience. Thank you for checking out the latest updates!
– Jon
blogs from previous years [ 2022, 2021, 2020 & 2019]
---
November
2023-11-28 – Had a great time meeting up with Rexer from @therexershow during my family vacation in Las Vegas today! He gave me a tour of his casino, and it was truly fantastic! I've known Rexer for a few years mostly via YT comments or skype chats and had no idea he resided in this locale. We delved into some fascinating discussions about modding, our YouTube journeys, and enjoyed a laid-back lunch. Thank you Rexer for taking time out to to meet, I'm headed back to AL tomorrow. This has been a really great trip!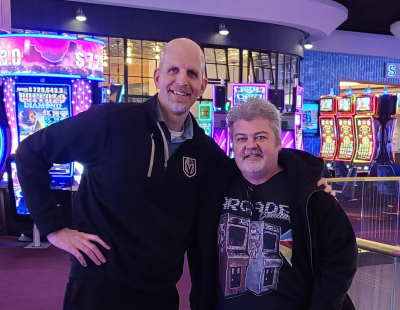 2023-11-27 – During my recent family vacation to Las Vegas, I had the incredible pleasure of meeting one of my favorite YouTube content creators, Mike from Ultimate Tech Hub (check out his channel @UltimateTechHub ). Mike is not only a tech genius but also an incredibly cool and down-to-earth dude. We had an amazing conversation about the latest tech trends, and he shared some behind-the-scenes insights into creating YouTube content. It was a dream come true to connect with a fellow creator, reinforcing the strength of our online community. Big shoutout to Mike for being awesome both on and off the screen!

2023-11-21 – In today's video, we'll take a look at the RayNeo Air 2 XR Glasses. These glasses are great for devices that support DP (Display Port) output. Check it out here!
2023-11-17 – As Thanksgiving approaches in the United States, I wanted to take a moment to express my gratitude and wish each and every one of you a Happy Thanksgiving! Like many of you, I'll be taking a break during the holiday season, so the flow of new content might slow down a bit. Fear not, though – I have some exciting things in the works!

I've got a couple of product reviews in the pipeline, although it's unlikely that I'll have them completed before I head off. However, this break will allow me to capture a few additional scenes that would otherwise be impossible. So, stay tuned for those reviews when I return!

Looking ahead, December promises to be a month filled with informative and engaging how-to guides. I can't wait to share them with you, and I hope they add a touch of excitement to the end of the year!

If you're reading this post, I invite you to drop a comment on any of my videos just to say hello or share what you're thankful for. Your comments mean the world to me. To kick things off, I want to express my gratitude for each and every one of you. Without your support, both in watching and subscribing to the channel, I might have given up on this hobby long ago. Thank you from the bottom of my heart.
Wishing you all a blessed day and joyous holidays! Stay tuned for more exciting content coming your way soon.
2023-11-10 – I've never owned an E-bike, but all that changed about a week ago. In todays video we'll check out the Hiboy EX6 E-bike which combines style, performance, and functionality. We'll unbox it, set it up and give it a spin. Check out all the details here.
2023-11-07 – Filming and editing has started for the next video, it will be a product review. I have two more after this one to complete within the next few weeks. I want to get them to you as soon as I can, they are all useful tech products and might make some great gift ideas this holiday season. All will be very interesting, a bit different from the usual content and one has yet to launch. We'll, of course, be continuing coverage of the Legends Pinball 4KP also. Plenty to look forward to!
2023-11-05 – Two important things I wanted to share: First, a new video has been made available that demonstrates the SSF Kit accessory for the AtGames Legends Pinball 4K, you can find that video here. Additionally, I've been hard at work creating an initial Legends Pinball 4K Guide which covers the Assembly, Navigation, Settings and more. This new guide may be found here.
2023-11-01 – Back to working on video content. There will be two videos that get worked simultaneously, one for the Legends 4KP and another that will be a surprise. For the surprise video, my son will be helping with that one. Both should be interesting and fun to create. I'll be out part of this weekend, not exactly sure when either will be released.
October
2023-10-30 – Taking a brief intermission from creating video content and starting on a Legends Pinball 4K guide. I'm also awaiting an omnidirectional microphone to arrive which should allow demonstrating the SSF kit a bit better. Using my camera didn't do it justice and want to make sure you hear what I hear.
2023-10-28 – The Legends 4KP from Pinball Expo '23 has arrived and I'm already hard at work creating more content for you. I wanted to wait until Saturday to post all the short videos of all existing tables. A camera was positioned above the machine, recorded in UHD 4K 60fps, all videos may be found here. None of these tables were previously shown playing on the 4KP, it was a lot of work and hope it's helpful to you!
2023-10-24 – I had an awesome time attending the Pinball Expo '23 in Chicago. Met with several fans of the channel, AtGames, Zen Studios, Magic Pixel as well as several fellow content creators. During the show, the main thing that I wanted to check out was the new Legends 4KP Standard Cabinet (The Addams Family themed cabinet). The artwork was very well-done, the topper looked nice, etc. During the show we had a giveaway for one Legends 4KP, huge thank you to everyone who participated and to AtGames for sponsoring it! Click here if you want to check out details of the trip.
2023-10-18 – I'm in Chicago at Pinball Expo '23. All updates for the next several days will appear here.
2023-10-15 – On Oct. 17th, I'll be heading to Chicago to attend Pinball Expo 2023! You can watch everything that's happening on this new page. The giveaway will likely be first and occur on the 18th (see here for details). There will be a big focus on the new Legends 4KP and SSF. There should be a lot of content covering what I wasn't able to show with the 4KP EVT model. We'll also, be meeting up with a number of folks from AtGames, Zen Studios, friends of the channel, fellow content creators and more.
2023-10-09 – I'm absolutely loving the Maxfree T2 3-Display portable monitor –it's a great device! The T2 allows you to easily add two additional HD displays to your laptop, for a total of 3. It is very portable, the image quality is very good and perfect for anyone who wants to easily have 3 displays connected to their laptop. Check it out here!
2023-10-07 – The results are in for the poll on what Collector's Edition Pinball (CEP) themes the community would like to see going forward for the AtGames Legends Pinball 4K. You can find all the details here. Thank you so much to everyone who participated in the poll, there were 664 respondents and loved the choices you made! I would have ranked the Mandalorian a little higher, but oh well LOL.
2023-10-05 – Interested in winning an AtGames Legends 4KP? See here for details.
2023-10-01 – The Kamrui AMR5 Mini Gaming PC includes the AMD Ryzen 7 5800U CPU and some unique features. It comes pre-loaded with Windows 11 Pro installed and we'll check it out with: RetroBat, Batocera, connect it to the Legends Pinball/Legends Ultimate and of course some PC Gaming. Full review here!
September
August
2023-08-26 – Part 2 of the Legends Pinball 4KP EVT coverage may be found here! In this episode, we'll check out the new CE-4K User Interface, closer look at the 3 displays, play some tables and compare with the HD model. Also updated the Guides page to include the AtGames Legends 4K series here.
2023-08-22 – There have been many updates to the Legends Pinball 4K EVT page (Please see the Change Log for updates). Part 2 of the series has been started and will be the first 4K video content created. I am experimenting with different methods of recording to bring you the best representation possible. As a result, may be later this week when it's ready. The current status will get updated periodically here.
2023-08-20 – The AtGames Legends Pinball 4K is the next generation of the popular Legends Pinball virtual pinball machine. In this multi-part series, we'll take a first-hand look at the impressive features and improvements made to this next-gen machine. Part 1 is now live!
2023-08-18 – The AtGames Legends Pinball 4KP EVT unit HAS Arrived! All further coverage, including photos and upcoming video series will be available on the ALP 4K EVT Page. Bookmark the page or simply click the right sidebar link to stay up-to-date on the details!
2023-08-14 – A few quick updates: the Legends Pinball 4KP EVT unit should arrive this Thursday, according to DHL. Once it arrives, I'll begin assembling and start creating content. The plan is to create a multi-part series so that I can get content out to you quickly, rather than having to wait for a longer single video. Also, the ROG Ally upgrade project is progressing well and I'll release that video+guide after the 4KP evaluation has completed. Lots of exciting content coming!
2023-08-11 – Our oldest child will be moving into her first apartment this weekend. I'll be busy with that but will keep you updated on projects when I return. The Legends 4KP has shipped, but has not arrived at this point (should be around mid-week). As mentioned yesterday, I had to place the project I was working on temporary hold and order some new stuff. I do have plenty of projects queued up that I could work on, but at this point I want to fully prepare for the Legends 4KP arrival. This way, I can begin producing content the day it arrives or shortly thereafter. I'm thinking of creating a mini-series, so that new content will get out quicker and provide you with a similar experience that I'm seeing. It's faster than creating one single video that takes several days to produce. Let me know in the comments of this video on what you prefer. Multiple smaller videos or a single video that covers everything, your comments will help with the direction taken!
2023-08-10 – Well darn, the ROG Ally upgrade project is on hold. Original upgrade seemed to work fine, during extensive testing it wound up crashing. I think it's a hardware failure with the upgraded component (component is mysteriously no longer available on Amazon), once I get it all working stable and extensively tested, I'll release the guide/video. A minor setback, but won't release unless I'm sure things will go smooth. The Legends 4KP may arrive at anytime and will be the the focus.
2023-08-09 – Working on a very interesting ROG Ally upgrade project. The entire process has been completed, tested, recorded and started a new guide for it. Not sure if it will be completed prior to the arrival of the Legends 4KP, but if so it will be the next video. If not, it will drop after the Legends 4KP has been covered and returned to AtGames.
2023-08-07 – A new page has been setup to communicate all the latest Legends Pinball 4KP updates, you can find that page from the sidebar link or here. I will communicate all major updates there from this point forward, be sure to check the very top that shows "Last Update". Clicking that link will take you to the change log to point you to what has been added most recently.
2023-08-06 – New Wave Toys and started shipping their new Mini Coke Machines. Mine arrived, it's a cool (literally) little machine. However, I had one little issue with it. You can find out what it was in this quick 1min. short video.
2023-08-04 – I was asked by our friends at the Unofficial Legends Group if I could document how to Upload a score to the AtGames leaderboards that could be used as a reference. They are frequently holding tournaments and this was a pain-point for some. Per their request, a new section of the Gaming Guide may be found here.
2023-08-03 – Legends 4KP Update: I've received an update from AtGames that the Legends 4KP will be shipping on Sunday (8/6). Not sure of the exact delivery estimate until it ships, I'll update you here once it is known. While we're awaiting this exciting new machine, I'm working on a few new things for the channel. Once the ALP 4KP arrives, everything else I'm working on will be temporarily halted. Also working on a new ALP 4KP informational page that answers questions asked, provides some additional details, etc. However, that informational page won't be released until shortly after the arrival of the 4KP so I can verify/answer some additional questions raised.
July
2023-07-29 – Legends 4KP Update: As mentioned on July 14th, the Engineering sample of the Legends 4KP will be making a brief visit to the studio for about a week. I've collected comments/questions that you've asked from the video/reddit post and started getting answers. Many I won't be able to answer until the machine arrives. Speaking of which, the current estimate is Aug. 4th, 6 days from today. Rest assured, once it arrives it will receive 100% of my attention and will be my focus to share everything I learn. Check back here for further updates, videos take much more time to create and I can share information much faster here. I will do my best to keep you updated!
2023-07-28 – If you've wanted an easy, portable and free way to play your Retro Games on a Windows PC, ROG Ally or Steam Deck (running Windows), RetroBat may be what you've been looking for! Check out the all new video and guide.
2023-07-27 – The upcoming guide and video are both nearly complete. I'm hopeful that it will be one that many are going to find useful, I'm certainly enjoying it and part of the delay completing it 🙂 I am spending some extra time to make sure I get it right and cover the main points. Hoping to release it by this Sunday (7/30). Roughly 80% of the way done on the video and 92% on the written Guide. The topic will be Retro Gaming Emulation under Windows and fills a gap in the available guides, I'll likely post the guide here prior to the video release.
2023-07-23 – Back at it, working hard on the next Emulation video and written guide. The plan is to complete it before the end of the month. It's a lot of work testing on different devices, recording, editing and writing. I'm hopeful that it will all be worth it and that all the effort going into it will be seamless for you. I'm personally very excited to complete it as it fills a void in the current list of available guides that I think many are going to enjoy.
2023-07-21 – There are lots of things going on, for example I've started an informational page to answer questions about the Legends 4KP that will be arriving soon (looks like very early August arrival). In addition, created some new overlays for future videos that I'll begin using in the next how-to video and re-usable in future videos. Started a new emulation guide and next video that has been requested, but still a ways to go before both are ready. I'll be away most of this weekend, which will impact completion of this project. However, planning to have the new video and guide done by the end of this month. That should free up my time to focus on providing new Legends 4KP content in a timely manner, which is what many are letting me know they want to see!
2023-07-16 – Production on the next video has started, there may be a new written guide created also. I'll keep you updated as more progress on this project is made.
2023-07-14 – The first AtGames Legends Pinball 4KP Engineering unit to hit the US shores will be shipping within a few weeks. We'll have about a week with the machine before it needs to be boxed up and sent to AtGames Engineering. If you have questions for me to try to answer, please comment in the video here! *NOTE: I will use the comments from this video to generate a list and what you'd like to see discussed in a follow-up video. Please let me know now before it gets here!
2023-07-12 – The GRS Panel POD is an easily swappable mini control panel for the GRS Trackball, Spinner, Dual-Stick and other mini Arcade control panels! The USB-connected panel works with the Build-A-Cade as well as many other devices such as the Steam Deck and the ROG Ally. Check it out here!
2023-07-03 – Today has been a busy day, I'm excited to present a new guide and the first video companion for the guide. I've received a number of messages asking if the new Asus ROG Ally can play Pinball FX. After lots of testing and guide development, yes it does! You can check out the video here. There were some optimizations that were needed for the best performance, you'll find it all documented in the new Asus ROG Ally Guide. This is just the start to much more coverage of the Ally and hope that you find the new content helpful!
2023-07-01 – This year seems to be flying by, hard to believe it's July already. There is a new guide coming, it will be for the Asus ROG Ally. It covers a lot of its main features and the start to some use-cases that I hope will be helpful. The use-cases section will be added in phases, the next video released will cover one such use-case, followed by more as time permits. I purchased the ROG Ally personally, it's not a review unit. As such, I've not had it as long as other larger content creators. Hoping to release the initial version of the guide within the next few days along with a companion video. Keep in mind, it's not going to be a review video of the ROG Ally (I may come back to that at some later time), but cover a single topic that has been asked by some of my viewers. It will kick-off a lot more content on this impressive handheld PC. Mostly driven by comments I receive in the video(s), so please let me know what you want to see going forward and I'll do what I can to make it happen.
June
2023-06-27 – The remaining two tables to complete the Dr. Seuss Pinball Pack #2 for the AtGames Legends Pinball are: One fish two fish red fish blue fish and Oh! the Places You'll go! They are a blast to play, Check them out! Purchase all 4 tables in the pack here.
2023-06-26 – The next video is complete and ready for release. May add one more thing to it, but it should go out around mid-week. The ROG Ally content is coming along, testing a number of different configurations to help determine what the first related video will consist of.
2023-06-23 – A new adventure has begun, the Asus ROG Ally… Related content in-development.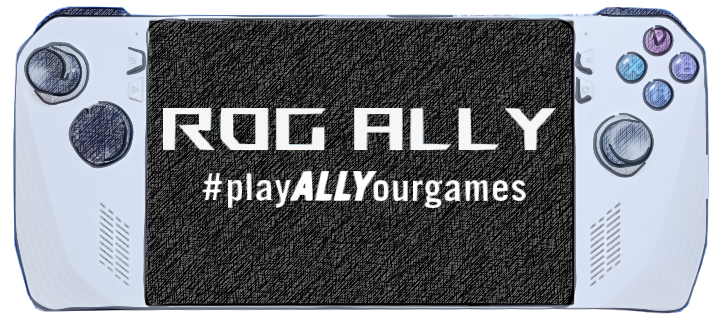 2023-06-17 – The ATARI Flashback Gold 50th Anniversary Edition is a great little console. In this video we'll explore some of the 130 built-in games and how to get the most out of it!
2023-06-16 – I'm excited to announce a new guide for the ATARI Flashback Gold 50th Anniversary Edition. In cooperation with AtGames, this guide supports new firmware which greatly improves the usability of the paddles.. A quick video and instructions on how to apply it may be found here. Additionally, a full review video for the console will be released very soon that provides even more details. I hope you find it helpful and enjoyable!
2023-06-12 – One of the two upcoming videos is a wrap and starting the 2nd. One will be a review video, the one that is completed is the firmware update. I need to think about the timing/release of each, both at once or the review a day or two later. On a different note, the Asus ROG Ally arrived a day early, I'll get started on that very soon and have a few ideas that I've not seen anyone cover yet.
2023-06-10 – Work has begun on the next video and guide! The guide is 97% complete, the initial video is 60% complete. I say initial, primarily because there was testing involved to make sure everything looks good and it will be a 2-part series. The first will discuss how to update the firmware, the 2nd will be a review of the product itself. Additionally, the Asus ROG Ally that was ordered sometime back should arrive on Tuesday. Work/play on that project will start upon completion of the current x2 videos which will both be released around the same time. Hope you have an awesome weekend and I'll talk to you soon!
2023-06-08 – If you own a Powkiddy A12 or A13 (same hardware, different case design) or looking to pick one up, adding Batocera to it will add far more emulation capabilities! In this video, we'll install Batocera, copy our games and check it out.
2023-06-04 – I try to have a new video out every week, but unfortunately things didn't go my way this time. I've got a new guide that was planned for release this week and some portions of the video ready to go, but I'm awaiting an update from the company before I can release it (something that will make the product better, which I will also need to test thoroughly). Found out mid-week that I need to hold off until next week to get back on that project and instead started another video. It's obviously not done yet and may be mid-late week before it's completed. Both are going to be very interesting and fun, as soon as I get them done I will release them. Thank you for your patience!
May
2023-05-27 – The EmuDeck team has released a new version of EmuDeck v2.1. In this video, we'll install and configure it on the Steam Deck and cover the new features.
2023-05-21 – Just wanted to provide a quick update on some projects coming to the channel soon. First up, some new Steam Deck content related to retro game emulation. Additionally, should be seeing a new video+guide coming for an AtGames product that is pretty cool. Lastly, I have pre-ordered the ASUS ROG Ally so you can expect related content hitting the channel in June as I ramp up my knowledge of the device. Lots of fun stuff!
2023-05-19 – The BenQ treVolo U Desktop Bluetooth speaker provides clear reproduction of human speech and is optimized for Voice Clarity. This makes it an ideal solution for Home Office use. I've ditched my typical USB headset for 4-5 weeks to see how the treVolo U compares. The results of this experiment may be found here.
2023-05-13 – The Super Console Arcade X3 gaming console by KinHank included 50k built-in games allowing you to easily connect it to a TV/Monitor and start playing! You can also connect it to a PC or various other gaming consoles and use it as an Arcade gaming stick controller. Check out the review here.
2023-05-12 – The Asus Rog Ally handheld was made available for pre-order today. I love my Steam Deck, but this device looks very impressive too and can't be ignored. I've placed a pre-order for a unit that should arrive at the studio before June 15th. As soon as it arrives, I'll be pausing all current content and focus on this device so that I can ramp up quickly. I'm already receiving questions about the Asus Rog Ally, stay tuned to the channel for more information!
2023-05-11 – Next video is well underway and hoping to complete it by Monday or Tuesday (if not sooner). It will be a product review for a new design of a retro gaming console. Everything has been recorded and a good chunk edited, but I like to take my time and make sure I didn't miss anything important.

We'll also have a new guide coming a week or two after that, it's already done just waiting on an update from the company to wrap it up and the companion video(s). I'm also testing other products far in advance to make sure they work well (so far so good). I likely won't get much done on Sunday, it's Mother's Day and that's a special day here. My wife has been hinting she wants a dashcam for months, guess it's time to give it to her. It's been sitting in my closet for well over a month 🙂
April
2023-05-05 – In today's video we'll check out the RetroStation Deck External HDD for the Steam Deck and PC. There are 31k games included, check it out here!
2023-04-27 – It's going to be a little quiet here in terms of new content over the next week or two. Several family situations/events that are unavoidable will impact my availability to create new content (daughter moving in college, Mom in hospital, daughter surgery, etc.) New content is being developed but will be delayed, I appreciate your understanding.
2023-04-22 – The Pinball FX Cabinet Mode Setup video is now available and may be found here or on the written guide.
2023-04-20 – The next video will be the Pinball FX installation in Cabinet mode on the Legends Pinball. The video is progressing well. Hoping to release this weekend or early next week, at the latest.
2023-04-18 – The initial version of the Pinball FX Cabinet Mode Guide for Legends Pinball is now available for preview. Please see the notice at the top of the page, it's still being refined and subject to change. The video companion is being edited.
2023-04-15 – Worked on the Pinball FX Guide and additional testing last night and will continue today. I've encountered an issue saving the button mapping and let Zen know about it. I'm also trying to increase the performance of the button response times and testing different options.
UPDATE: 10:00AM – Last night I had my wife test it, she said it was too "laggy" and didn't like it while using Joytokey. So, this morning made some changes that seem to have massively improved the performance. I had her re-test and she said, YES, this is MUCH better! I still have more work to go on the controls, but I fully agree with her. Performance was bad before but now it's much more fun. I won't be including Joytokey in this new guide for Pinball FX.
2023-04-13 – Zen has released Pinball FX (latest version) to Steam today. I will have a new video+guide for Pinball FX available as soon as possible. If you're waiting on this guide, don't forget to subscribe and click the bell notification so you'll be notified once available. Work on this will start this evening. I'll keep you posted here as progress is made.
UPDATE 10:23pm: Got the basics mostly working (see here for a short video). The playfield rotation works well. Zen added the ability to more easily position the backglass and DMD which I really appreciate. Initially, the DMD/Backglass settings didn't seem to save after an exit/restart but seems fine now. When mapping the L/R nudge buttons, those settings don't seem to persist at all. I have a message into Zen asking about this. Tonight was mostly install recording and basic testing. I need to understand what areas I need to understand better before going full-speed on the guide. That will likely start tomorrow and over the weekend. Overall, it's going well.
2023-04-12 – If you saw the HDD mentioned in my previous Batocera video, you have a hint as to what I'm working on next. I received an update this evening that fixed all the issues that I reported and will continue to test further with additional devices. If everything continues to go well, which I fully expect, you'll see it soon. My current plan is for the video to be released sometime this or early next week. But, there is another that may take precedence. I suspect I'll be working on both at the same time (not my forte) and we'll see which one wins. Both are equally important.
2023-04-09 – Installing Batocera to a USB Stick / Flash Drive allows allows using any x86 64-bit PC as a retro gaming system. In this video, we'll install Batocera to a USB Stick, fully set it up and try it on a few different machines!
2023-04-07 – The next guide+video is coming along very well. Due to working all weekend, including Easter, it's going to take some time to finish. Hoping to complete it for release next week. It should be one that most viewers can use and enjoy, cheaply and easily. I'm really excited about all the awesome possibilities this will provide. Retro Gaming Anywhere, well almost!
2023-04-05 – Video mentioned in my previous post is on a temporary hold. I found a minor issue during testing and reached out to the company. They confirmed the problem and working to resolve it. As a result, I'll be switching to the next planned video which works out, as it's one that is needed, been asked of me several times and missing from the current library of guides/videos. It will be a good reference to have for a follow-up in light-gun gaming planned for next month. New guide and video edits have begun, but a little ways from being ready as this week I'm on-call for my day job (little free time).
2023-04-04 – The next video is in production. If you love playing Retro Games from the late 70's to recent systems such as the Switch, you're going to enjoy it. If you like playing these games from a PC or even a Steam Deck, you'll really enjoy it. What's coming is a unique idea that I've not seen any other company create. I've been testing it for about a week and we'll talk about it soon.
March
2023-03-29 – The first installment of the new Dr. Seuss Pinball Pack #2 is coming (3/30 early access/pre-order customers/LPO, general release 3/31). There will be a total of four tables included in this pack, the remaining two will be released June 30th, 2023. The first two tables are: Dr. Seuss's ABC and Green Eggs and Ham. For more information on these tables, check out the video here.
2023-03-28 – If you're a Legends Pinball fan, there are a few cool new tables coming very soon! Demonstration video coming this week!
2023-03-25 – Here's a cool case for your Raspberry Pi 4 called the Pironman! It includes a nearly 1″ OLED Display, 16 addressable RGB LEDs, M.2 SATA port, IR receiver and more. This video will cover the unboxing, assembly and Software setup.
2023-03-24 – Next video is completed and ready for release tomorrow (3/25), stay tuned!
2023-03-16 – If you're interested in running ChatGPT on your Amazon Alexa-enabled device, a skill has been created that you may be interested in. You can check it out here.
2023-03-16– A lot of work has been going on at the WTT Studio. A new video will be released very soon (video is ready to go) that demonstrates an Amazon Alexa Skill working with the latest AI sensation, ChatGPT. Additionally, a few new gaming-related guides are in-development and will be revealed very soon, just waiting on some updates from companies to finalize them. Some cool stuff ahead, fur sure! Also, a few new products to review for the Steam Deck, PC Emulation and perhaps one additional console-type device (not 100% sure if this is coming). Also, one pretty cool Raspberry Pi 4 case is definitely coming soon too. Think "Ironman", with a "Pi" somewhere.
2023-03-12 – Here's a fun video (YouTube short) where we're using Amazon Astro and Furbo to throw our dogs a treat.
2023-03-10 – In this video, we'll talk about how to setup the AimTrak light-gun on the AtGames Legends Ultimate home arcade cabinet.
2023-03-09 – The AimTrak Light Gun companion video is completed and will be released on Friday morning. Talk to you soon!
2023-03-07 – The AimTrak Light Gun Guide for the Legends Ultimate is basically ready to go, you can find it here. The companion video is about 60% done and plan to release it this week. The two should make setting up the AimTrak light gun a bit easier. I welcome any feedback in the video comments. My next post will be the companion video announcement.
2023-03-05 – The latest written light-gun guide is mostly a wrap, focus now moving to editing the companion video in preparation for release this week. Much of the rough-edits have been done and awaiting voice overs. I'll be starting this today and planning to release both this week. I'll post a link to the new guide once the video sees similar progress. In addition, received two more light-guns a few days ago that will be a part of a follow-up segment (or segments, we'll see how interested folks are).
2023-03-03 – A new light gun video and guide is in-process. I've been working some really long hours in my day job which has slowed progress on it, but I have both guns working on the Legends Ultimate and working great. I'll keep you posted as it gets closer to release-time.
February
2023-02-25 – Success! I have one light-gun working on the Legends Ultimate (mentioned earlier this month) with the BitLCD installed and a few additional accessories I picked up. There were some things I had to do a bit differently to get it to work. I'm in-process of documenting everything I've done and I want to add a big shout out to RaphSeraph who had created a guide over half a year ago that had some very helpful information and will be credited in this new guide. As a result, I ordered a 2nd Light-gun to test such that I will be able to demonstrate two-player light-gun gaming (not just on the ALU). I hope to have this new guide available this week and a companion video available shortly after. This is only a start to WTT coverage of light-gun gaming, much more is coming for other systems that support it. Multiple light-gun manufacturers will be documented as well for various platforms, the Legends Ultimate is only the first in the series, then Steam Deck after that the Pi 4. It's a subject that's been asked of me for years, I can only now invest in making it happen and appreciate your patience if you're one who's asked about it. I hope you're as excited as I am!
2023-02-24 – I spent a lot of time working with the INMO Air AR Glasses and now able to provide a detailed review of this product. The glasses have some very interesting features, but it's probably best to just show you in this video rather than talk about it here. If you have any questions or comments, I'll help as best I can in the video comments section.
2023-02-19 – On the Amazon Astro guide, added a new section for the Furbo 360. This device will let you flip a treat to your dogs/cats. It can rotate in 360 degrees, has a 1080p camera and of course can flip treats to your pets. It can operate stand-alone on a table/counter or you can add it to the cargo bay of Astro. More details here. A video review is coming for the Furbo 360.
2023-02-18 – Received an interesting pair of AR glasses. This device has a built-in battery, camera for recording images/video, can pair to your cellphone and runs Android. The glasses work completely independent from your phone, yet can connect over WiFi to your home network or Bluetooth to your phone. There is also a limited AppStore built-in that allows you to perform a number of additional functions such as translating some languages to English and show the results within the glasses (translated to English). They can't be used for connecting to a Steam Deck and there are other limitations. We'll be checking it out on the channel soon.

I also received one of the two Light Guns. The box is unopened at this time, but I expect to open it this weekend and begin testing it out. There will likely be a new guide developed for each type of gun that arrives and videos for each specific device it's tested on.
2023-02-15 – I've had several ask me if I'll ever create guides for Light Gun games for either the AtGames Legends Ultimate or distributions such as Batocera / Recalbox / RetroPie. This is an area I've neglected, primary due to the cost involved in acquiring them. In the past, I've used the Dolphin bar with WiiMotes which worked decently (but not great). I decided to invest in some light-gun related content for the future and ordered 3 that will be included in future episodes / guides on the channel. I'm looking forward to digging into the world of Light Gun gaming and sharing that experience with you.
2023-02-11 – Batocera is an excellent option for Retro Gaming on the Valve Steam Deck! In this guide and video, we'll install and setup Batocera and provide a detailed written guide to further assist.
2023-02-10 – Production is a wrap on the next video and guide, Steam Deck Batocera Emulation Setup Guide! The companion video will be released tomorrow, 2/11. This project took quite awhile to complete, one of the largest ones in some time. It should have been done two weeks ago, but unfortunately I'm behind since I haven't been well. You may be able to tell in some parts of this video 🙂
2023-02-07 – I've completed the next written guide for the Steam Deck and it will be made available when the companion video is done. My voice is almost back to normal, or at least tolerable, to begin voice-overs for the next production today or tomorrow. Hoping to release this new guide and video over the weekend, if I still sound a bit raspy my apologies in advance 🙂 I'll share more updates as we get closer to that point.
2023-02-05 – Feeling slightly better today, it comes and goes. I've started work on the next guide, it's going to be a very detailed guide for the Steam Deck that I think many are going to appreciate. Lots of work remaining, there will be a companion video for it as well to talk about it more. It will be released as soon as it's completed.
2023-02-04 – Been sick for the past week and rather miserable at the moment. My apologies for slowing down on new content, but will be hitting it hard once I'm back to better health.
January
2023-01-27 – Since it's release in Nov. 2022, I've spent some time experimenting with ChatGPT. ChatGPT is a new Artificial Intelligence (AI) system that can generate text and programming code in ways not seen previously. It has received a lot of attention since it's release and for good reason, it's impressive. ChatGPT has the potential to be disruptive to a number of different industries and in this video we'll explore some of the different ways it can be used.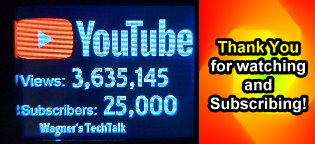 2023-01-27 – Thank you to all of our amazing subscribers who have helped us reach 25,000 subscribers on our Wagner's TechTalk YouTube channel! We are so grateful for your support and engagement and couldn't have done it without you. Your encouragement and feedback keep us motivated to continue creating content that entertains and educates. We look forward to continuing to grow with you and bringing you even more exciting content in the future. Thank you again for joining us on this journey and for being a part of our community!
2023-01-19 – The awesome CoinOpsX team has released not only a new CoinOpsX Marquee 2.0 pack for the AtGames Legends BitLCD accessory, but have also included over 1k VIDEO marquees too! Based on this development, a video has been created to demonstrate how to set it up and may be found here. This pack takes the BitLCD to an entirely new level, Enjoy!
2023-01-17 – I'm back! My wife and I took our first-ever cruise the early part of Jan. and a few days in New Orleans also. With the holidays, trip preparation and other reasons I was not able to create content before our departure. But, back and have plenty to complete and some footage to show from our trip. Given this is a tech channel, won't get too much into. the trip itself but did bring along some tech stuff during the trip that made it a bit more pleasant. We'll talk about that in an upcoming video, but first need to wrap up some in-process content and get back to our regularly scheduled program.
2023-01-02 – It's going to be a little quiet here at WTT for the first few weeks of Jan. Lots of new content in-process, but there are some personal things that need to be taken care of the first few weeks. I'll reveal more when I return 🙂 Hoping to show some new tech outside the US in-action. This new content will appear likely towards the later part of this month and in likely more than a few videos early this year. Just wanted to keep you updated.
2023-01-01 – Happy New Year 2023! I hope you had an awesome 2022 and are having a great start to the new year. 2022 was a transitional year for Wagner's TechTalk. There was a large number of new guides developed to support you in a lot of different ways. According to the number of views and subscribers, the top content was Steam Deck related. A very close second was new and existing AtGames guides and videos. It's not always about what is the most popular that drives the content that gets created. I'm always searching for new tech to bring to you so you can decide for yourself if it's something you like or not. It's also important to continue bringing new and interesting content for those topics that are the most popular. This year, you will see even more continuation of that, including some new technologies that may not be popular now but have the potential to be in the future (example: Amazon Astro). I'm excited for new products that are coming to the studio and looking forward to sharing them with you. There is more content to make than time to create it (this is not my full-time job).

This website went through some additional upgrades that were largely transparent to you. Improved security, automated daily backups, monitoring, etc. -all to provide a better experience for you. Of course, none of it is free for me. I always appreciate your support by using affiliate links that you find on this site, it helps me keep new content flowing and the site operational.

The support received in 2022 was tremendous, I want to thank each and everyone of you with your very kind comments, trust, subscribing and likes to videos. In 2022, subscribers increased by 8.2k, there were over 1.2 million views and 87.2 thousand watch hours. In terms of channel growth, it was over a 30% increase from 2021. Again, thank you and looking forward to what 2023 has in store for us!