Last Update: 4/13/2021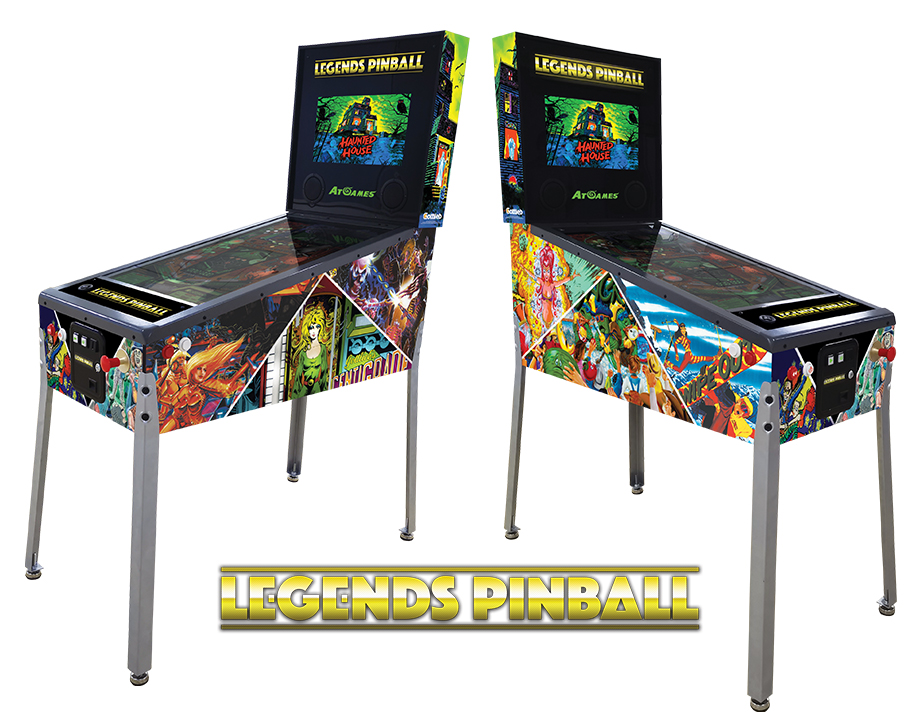 Welcome to the AtGames Legends Pinball (ALP) page here at Wagner's TechTalk! I lucked-up on March 20th, 2021 when I was able to secure an order from Sam's Club. The machine arrived on 3/26 and the following are my experiences. If there is anything that you'd like to see added, please let me know. The Legends Pinball supports HDMI input as well as OTG, this alone provides many opportunities for future expansion. In the coming weeks, you'll find more exciting new ways to get the most of your ALP! Stay tuned… Much More is coming!
What is Legends Pinball?
As you may know, a full-size dedicated pinball machine can cost upwards of $5000. While they are typically beautifully designed, they are expensive, prone to repairs and take up quite a bit of room. Space is definitely a concern for me and why I've never owned a real pinball machine. Not everyone has this problem, for space-constrained individuals having one (or more) real pinball machines may not be practical.
AtGames Legends Pinball (ALP) isn't small but isn't quite a full-size pinball machine either. It is a Virtual Pinball machine which uses a 32″ LCD display, mounted vertically, to simulate an actual pinball machine. It also provides haptic feedback which mimics the vibrations you would feel from a real machine, for the most part. There is also a 15.6″ display for the back glass which contains the scoreboard, simulated DMD (Dot Matrix Display) and additional artwork. There is a lot to like with the ALP, such as the inclusion of a USB 3.0 (storage) + 2.0 port (OTG), WiFi, Ethernet and Bluetooth which will allow you to add more games to the machine. Not only that, there is an input for HDMI as well (to connect other devices). Essentially, this means you'll be able to play games/tables from other systems on the ALP!
The hardware ships in two boxes. When I checked my order status through Sam's Club/FedEx, I was concerned because the shipment only showed one box and the size/weight matched only the backglass box. I'm happy to report that both boxes arrived at the same time and in great condition. I talked to the carrier upon delivery and he said both boxes had the same tracking number. After opening the box and fully assembling the unit, I'm very impressed with the build quality. It feels solid, sturdy and looks absolutely beautiful in our game room.
The 22 Gottlieb tables that are pre-installed are good tables and they play well with some minor issues. I did notice a delay between the time events happen on-screen and when the exciters/actuators react. This delay is roughly around 300ms and noticeable to me. However, I installed Vol 1&2 of the Zaccaria Pinball tables and these have no significantly noticeable delay and the tables look better overall. For example, with the Zaccaria tables, the balls look like they are rolling across the table, the lighting effects (shadows) look more realistic and the game play seems more accurate than the pre-installed tables. In my opinion, if you get one of these machines, you should definitely try at least one Zaccaria volume pack and see it for yourself. Alternatively, you can watch the above video.
Given what I know now, would I buy the machine again? Yes, I definitely would. In the future I hope to see more tables, perhaps some from Zen Studios if AtGames is able to work out such an arrangement. I think if they were able to accomplish this, AtGames would make a massive splash in the consumer-oriented virtual pinball machine market. Titles such as Star Wars, Marvel and others would make the ALP an absolute no-brainer. Even with the tables currently available, it's likely the best overall value for those who love pinball and don't have the room/budget for an original pinball table or multiple competing options.
The information you see on this page is just a start, already working on ideas for future project and video guides for the ALP. Hope you consider subscribing, my goal is always to provide informative and hopefully entertaining videos.
Specifications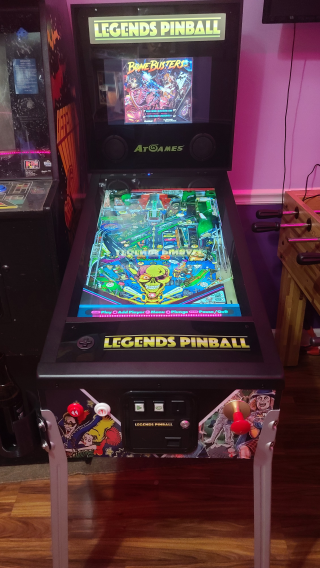 Largest, most full-featured home virtual pinball machine in its class
Designed for players of all ages, skill levels, and play preferences
22 licensed arcade pinball games built-in (expandable) Game List here.
32″ high-definition LCD playfield
15.6″ LCD backglass
High-performance USB, WiFi, ethernet and Bluetooth support
Real glass over embedded LCD playfield and LCD backglass
Stereo speakers
Real spring-loaded precision plunger
2 sets of arcade-quality flippers and nudge buttons
Tactile feedback and accelerometers for real pinball feel
Built-in D-pad for easy navigation
Interchangeable control panel options for authentic vertical arcade gameplay
Legends Arcade Platform: ArcadeNet®, BYOG™ (Bring Your Own Game), and APL™
Resources
Accessories
The following are items I've added or will be adding to my ALP:
Assembly
The assembly was very simple, here's a quick-start guide:
There are x2 screws needed for each leg. You'll find them in a small box that is contained in the box for the backglass (along with a few additional screws, allen wrench, connector and power cable).
I removed the main unit from the box, set it on top of the box (on the side) and installed 2 of the legs. I then flipped it over and installed the other two legs. Using the box made it easier for me, however make sure it's well balanced and won't fall off the box. Alternatively, set a blanket on the ground and place the unit on the blanket. The key here is you want to avoid contact with anything that may scratch/damage the unit during assembly.
Use the included key to open the back glass and set it on top of the main unit (aligning the screw holes at the back). Install all x4 wing nut-screw to hold the back glass to the main unit.
Use the same key to open the bottom section of the main unit. Locate the two loose cables (one for the speaker, the other a flat ribbon for the display). Attach both of these cables as shown in the video.
I decided to power on the unit to make sure everything was working prior to re-attaching the back panels. Everything looked good and the back panels were then attached to both the base and the back glass assembly. Use the key to tighten them securely, start with the bottom main unit, then the back glass.
Plug in the power supply to the back of the main assembly and flip the power switch on the front-bottom-right of the unit.
Have fun!
Game-Play
The 22 built-in games are pretty good, really enjoying Haunted House and Black Hole. However, I must admit the Zaccaria tables are the best overall pinball experience. The game-play is more realistic with the Zaccaria tables vs. the included Gottlieb tables. I'm hopeful in the future that AtGames is able to improve on the built-in tables through a firmware update. See my recommendations here for more details.
After spending ~$700 USD on the machine, if you aren't excited with the included tables, I recommend buying one Zaccaria volume to see what I mean. I understand your hesitation, it's another $50 but I personally feel it is money well spent. You have two options for redeeming the code after purchase, you can link it to your account or the machine itself. I decided to link it to my account should any future upgrades/repairs take place, the tables should remain available. When tied to the machine itself, if you upgrade/replace the main board or sell the machine the games go with it.
Table Listing
The following 22 Gottlieb tables that come pre-installed, however you can add many more Volumes here. On my cabinet, I opted for them all (it was inevitable). In total, there are over 120 tables on my machine!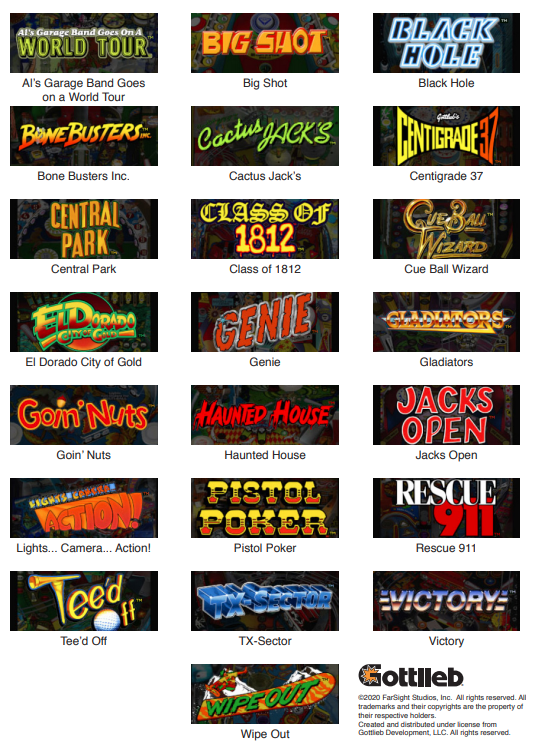 Operation
Getting into the settings and making changes to the machine isn't difficult. The menu system makes it pretty easy to navigate. However, there are times when it doesn't seem as intuitive as you might expect. Below are some operational guides to help you get started.
Exiting a Game / Viewing Leaderboards – When in-game, press the Menu button if you want to Quit the game or check the leader boards. Use the D-Pad to navigate to your selection and always press the Red (Rewind button) to select the option here. IMO, it's counter intuitive to select with the Rewind instead of the green select button but that's how it currently works.
Getting Around – Use the D-Pad (4 way controller) on the bottom top panel to navigate the user interface. There are options at the very top as well as in the main display area. When you find the option/table/game/setting you want, press the Play (green) button to select the option.
Bring your own Games (BYOG)
The Legends Pinball will also allow adding your own classic vertical Arcade games to the machine using a USB Thumb Stick. That is, you can play games such as Pac-Man, Donkey Kong, Galaga, 1943 and thousands of others directly on your ALP! I've been testing this feature and it works well –for the most part. I'm finding that the included d-pad doesn't always move the way I think it should. Sometimes when I press in the right direction, it doesn't take it. Makes it difficult at times or could be defective, honestly don't know. Won't matter too much, I'll be replacing it soon with an Arcade control panel in the near future.
One other point which I'll describe is that when generating the .UCE files for your games, you will be missing the samples. For some games like Donkey Kong (Mario walking), Galaga (explosion) and others this will be noticeable to those of us that grew up playing those games. I've not yet been able to get the samples working and may not before I make the instructions available. However, there are some cool options for scanlines and others that I hope to demonstrate soon.
I will have some instructions to help you with this process. So, Stay tuned…
Upgrades / Mods
Below are some mods that you may find useful for your ALP.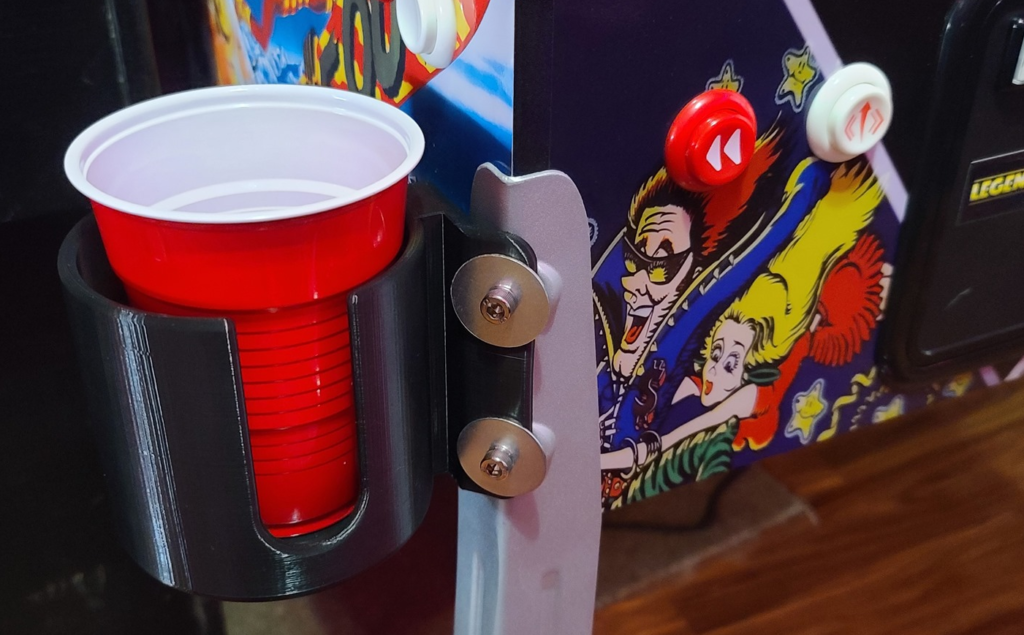 3D Printed Cup Holder – You know you need one – This worked great on the ALP! I did have to add two washers to make sure the screws were held securely to the unit. I simply 3D Printed the model from the link above, then inserted the screw through the washer and tightened both to the base of the unit. You'll want to be careful here, screwing it in too tight on the leg can cause the cup holder to break so if you hear what sounds like plastic cracking, you're good. Stop and move on to the next screw 🙂
More fun mods coming – Stay tuned!
Recommendations
The ALP is great, but with a few minor modifications it could be even better! The following are some recommendations for improvement that would make the ALP a better overall experience:
Gottlieb tables forget the last player initials – The Zaccaria tables remember the previous initials at the end of a game, just requires 4 taps on the rewind button to enter the initials from the previous time initials were entered. On the Gottlieb tables, you have to scroll through and enter each time which is disappointing. Both sets of tables should work consistently.
Gottlieb table scoreboards too small – Several of the Gottlieb tables have small scoreboards and plenty of artwork. I think better use of the space on the back glass would be great for us older folks.
Included tables should be improved – While the Gottlieb tables are good, they didn't perform as well as the Zaccaria tables.  The ball image appears static, the exciters/actuator timing is slightly off and the artwork/lighting effects don't look quite as polished.  My wife told me the new (Zaccaria) tables played fast but the others we had were slow (Gottlieb). The flippers are responsive, the haptic feedback is slower to react and I agree with her.
Value of ArcadeNet – There are some good games on ArcadeNet, but you'll want to hook up a USB controller and likely need an ethernet connection for a better experience. There were just a handful of games that I tried, they played ok. It looks like they are spawning a Virtual Machine to play the games which may take 1-5 min. to start a game initially. Also, latency may be an issue during game-play (was for me). I'm not quite sure how I feel about this service just yet, going to take more time to get a good feel for it. *NOTE: My experiences were while using WiFi, I will be running Ethernet to the room, re-test and update this statement at that point.
YOUR Requests – The following is based on feedback from this Reddit thread on what it is that you want to see (I will be providing this feedback to AtGames):

Inconsistent selection – Reverse and play button uses make no sense to me. They need one button to be "select". It is almost as if the play button is "select" sometimes and the reverse button is "select" sometimes. My comment: Fully agree with this, it's unnecessarily confusing.
Ability to create custom/favorite folders – Would really like a favorites menu to select favorite tables. Additionally, the ability to sort by table type. Like "retro" only.. or better yet let us make folders to move tables where we want. My comment: This would definitely be a welcomed feature.
Change Log
2021-04-13 – Start to the BYOG Section / minor updates.
2021-04-09 – Various updates.
2021-04-05 – Took a brief vacation with the family to Florida, back now and resuming work on the review video.
2021-03-30 – Added top high scores, my son LAN got a high score on Pool Champion 2018 (Remake). How many ways can I mis-spell Gottlieb (corrected).
2021-03-28 – Updated with an Issues Found section.
2021-03-27 – Updating many sections and adding more information that I've learned.
2021-03-26 – It has Arrived! It's now fully assembled and I've added two Zaccaria Volumes. In my opinion, the Zaccari volumes play much better/nicer than the stock 22 games. More in my review video.
2021-03-25 – Added a 3D Printed cup holder.
2021-03-21 – Start to this page.