Last Update: 11/09/2021
The following is a listing of all of the Guides I've created thus far. These guides provide a more article-based format though many include video companions to further explain and demonstrate. If you have any additional tips or recommendations, please comment in one of the related videos.
I appreciate any support from the community to enhance these guides.
AtGames
In the sections below, you'll find guides for several AtGames products. More are coming, so please check back regularly.
Legends Pinball
I've always wanted a pinball machine, but due to cost and available space it was out of reach, until now. The AtGames Legends Pinball machine is slightly larger than 3/4 the size of a real pinball machine and has the ability to play an unlimited number of tables. Below are some guides to help you get more familiar with Legends Pinball:
Legends Ultimate Mini
The Legends Ultimate Mini is a hybrid between the larger Legends Pinball and Legends Ultimate products in a smaller form-factor. Yet, it provides an innovative feature allowing easy rotation of the display in horizontal or vertical orientations. Explore the guide below.
Legends Ultimate
After owning the AtGames Legends Pinball, AtGames was kind enough to send over an AtGames Legends. Below are guides related to this machine.
Legends Gamer
I was really impressed with this machine and decided to create a guide for it. Enjoy!
---
Learning Series
These guides are shared among all of the above products.
---
Raspberry Pi
The following guides will help you to get the most out of your Raspberry Pi. Much of the information here focuses on information for Raspberry Pi 4 Model B owners. Though, some information may be helpful for other Raspberry Pi models also.
---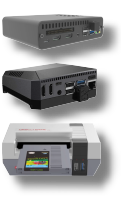 Raspberry Pi Cases
The following include guides for the Raspberry Pi cases. Some are complete cases, laptop/computer-like form factors, etc.
---
Retro Game Handhelds
The following are pages setup to assist you with links / information on various popular portable Retro Gaming handhelds:
---
New Wave Toys Replicades
---
PC Retro Gaming
---
Common Tasks
Robotics
---
OpenCADE
---
Arcade1Up
---
Change Log